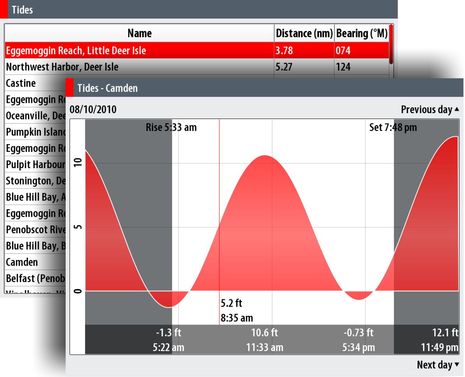 I may regret that title eventually, though I've just been cruising with four premium MFDs for two weeks, often using them seriously for four or five hours a day. But that doesn't mean I've learned every nuance of these complex beasts, or that I've developed strong preferences. Actually I have (mostly minor) complaints about every one of them!…even if they're all way better than the electronics I used around this coast 40, 30, 20, 10, even 5 years ago. I'm going to start with something fairly simple…
I was a little surprised to discover that the Simrad NSE doesn't offer current predictions, but it seems the quickest at pulling up a tide graph (above). Hit the "Pages" mode key (Simrad calls them Direct Access Keys, and I've come to love them), spin the rotary knob a few clicks to "Tides", press/click and voila…the nearest tidal station prediction for today. Up/Down cursor keys get you different days, and the (context) Menu key gets you the list of nearby predictions. Note the legible fonts and font sizes — something I see and like everywhere on the NSE.
As for current predictions, here in Maine the official data is fairly useless because the coast is so complicated — we learn to use tide level, geography, and ultimately pot buoys to figure things out — but I'd be a little miffed to learn my NSE can't tell me, say, which way the four knot +/- current in the Cape Cod Canal is running. But there are so many sources of that data these days, from smart phone apps to insurance company paper freebies to just about every computer planning or charting program. That's also why I can't get too exercised that the Furuno NavNet 3D MFD12 on Gizmo's bridge doesn't have any tide or current predictions at all (yet). But that does make it the odd man out (along with the inability to save screen shots, which is somewhat a personal bugabear, given what I do, though not completely).
The Garmin 7212 — and this applies to every Garmin I've tried — is nearly as quick as the NSE. Home/Information/Tides is just as quick, in fact, but then when you go Back, you have to again choose which navigation screen you want, whereas the NSE just goes back to where you were. The Garmin, like the NSE, makes it graphically clear where you are in the tidal cycle, and unlike the NSE, lets you key in any date in the future (that's where the 7212′s touch screen works especially well). The Raymarine E140-Wide isn't too shabby either…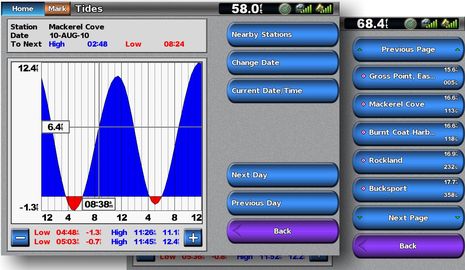 Though if a tide (or current) icon isn't in sight on the Raymarine chart, you have to remember that you can hit the OK button to get screen info, than the "Find Nearest" soft key to search tides, currents, and other good stuff. I don't really understand why the search box, tide graph, etc. isn't full screen, but maybe it is on less than 14″ displays. I also think that the graph and table could be designed for better legibility (see the other two), and ditto for the data bar seen at the right. It's attractive looking, for sure, but in my view actual dynamic data should almost always be bolder than labels. Then again, my E140 Wide is still running the software that came with it last Fall, an issue that will come up again tomorrow when we look at 3D chart screens.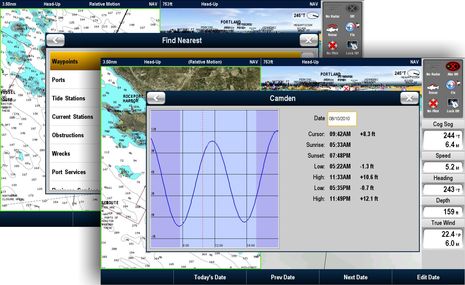 Ben Ellison is electronics editor for Bonnier Marine Group, specifically Yachting and Cruising World. He previously was electronics editor for Power & Motoryacht and SAIL, as well as a writer for Ocean Navigator. His blog posts appear courtesy of his website
www.Panbo.com
, which has 80,000 monthly readers worldwide.