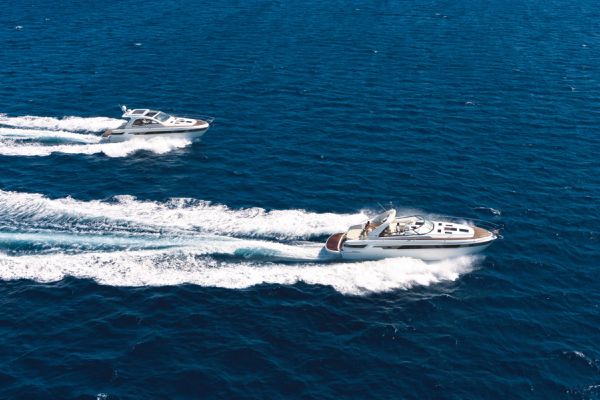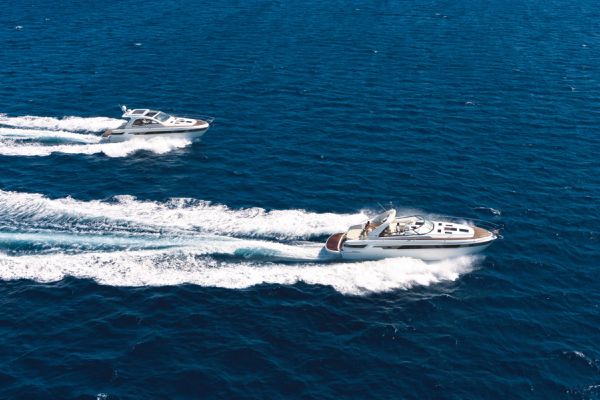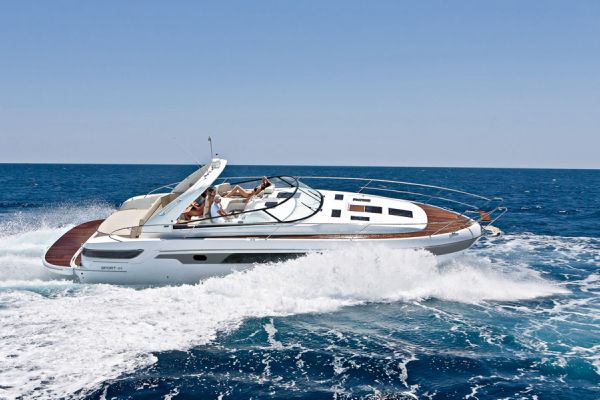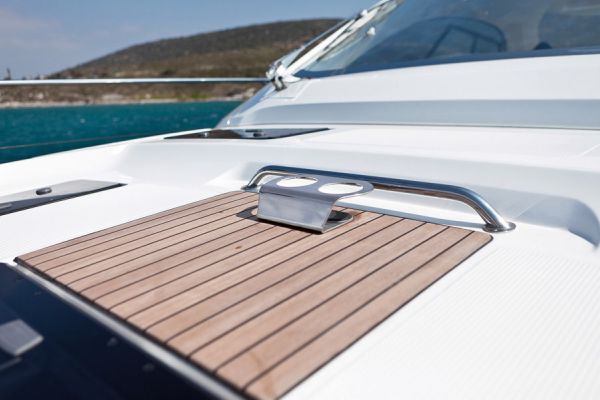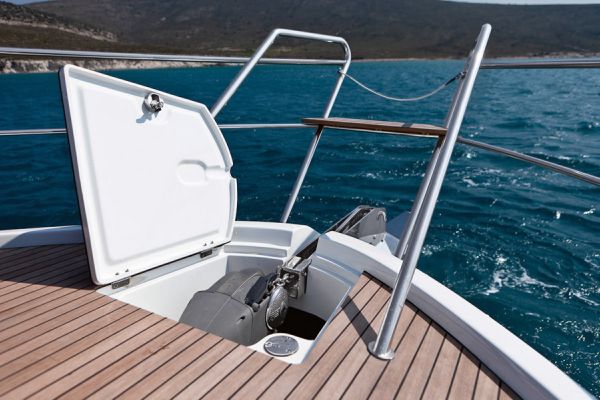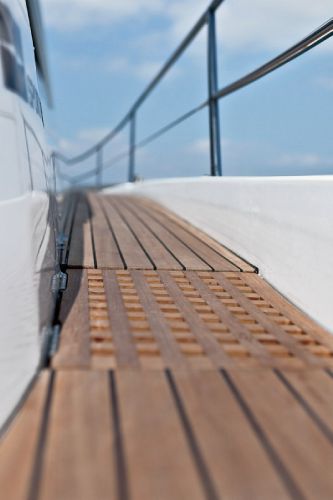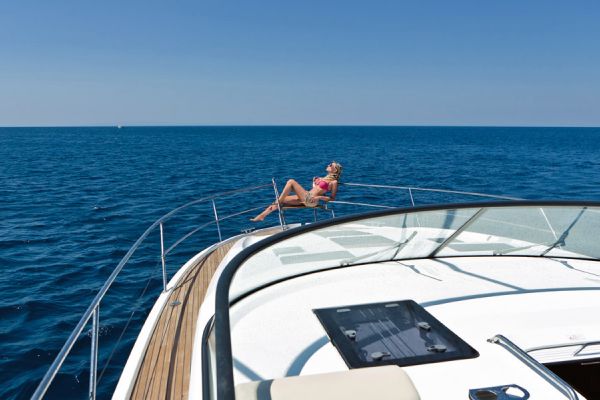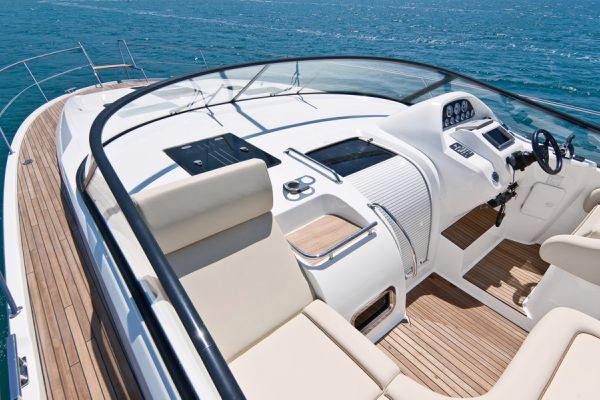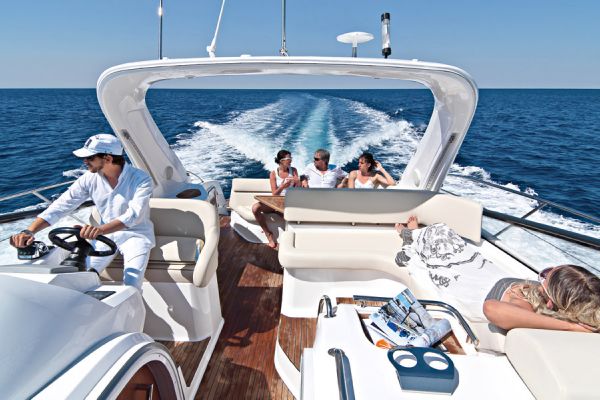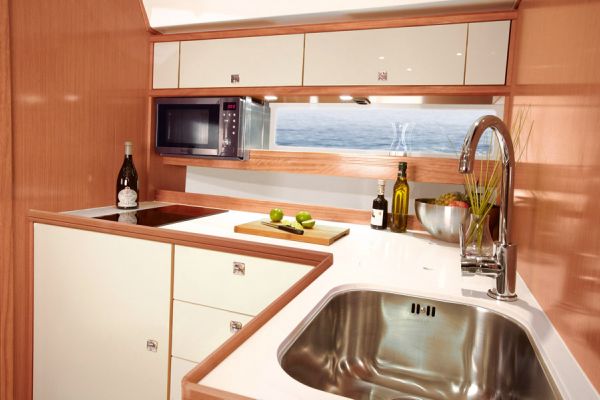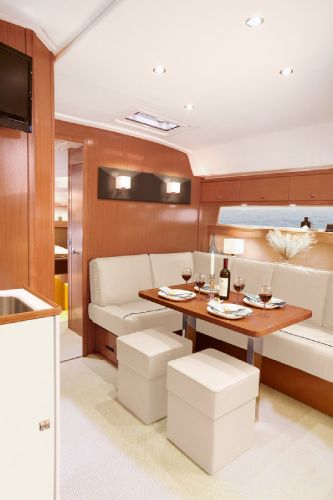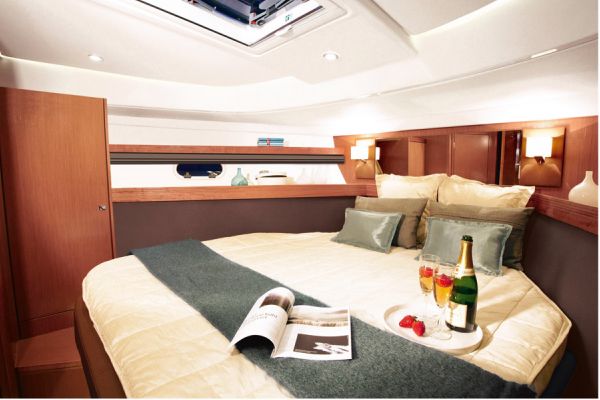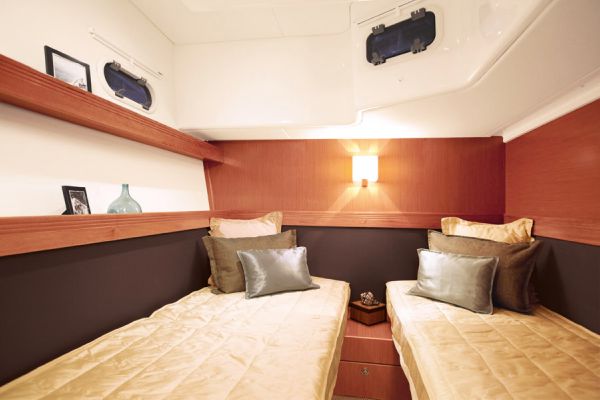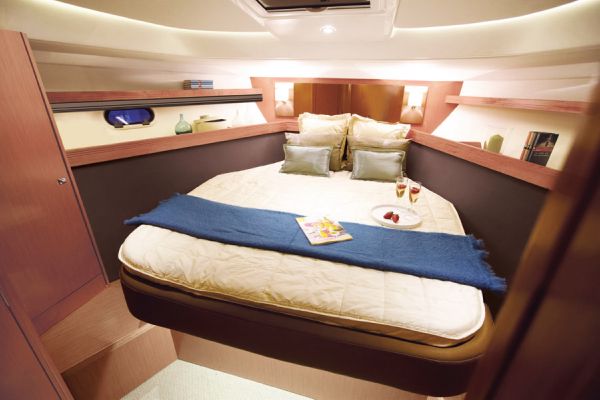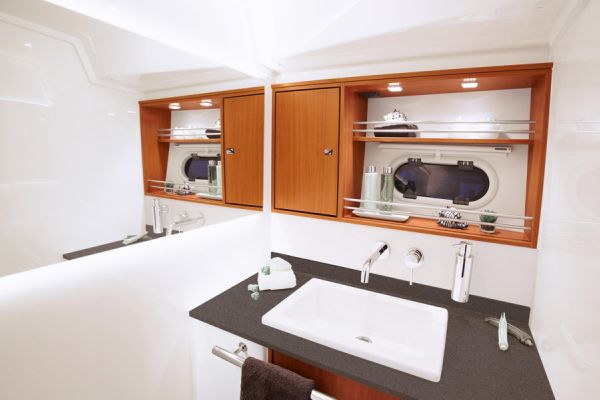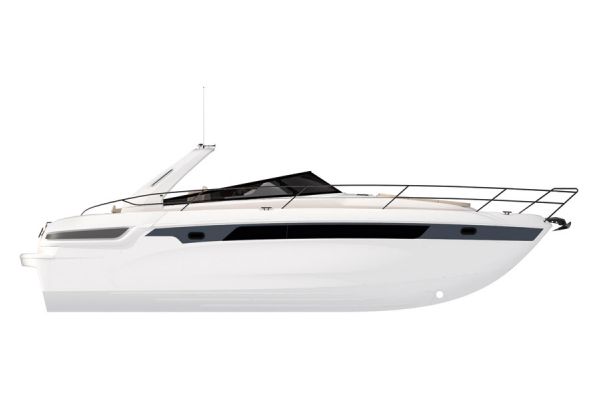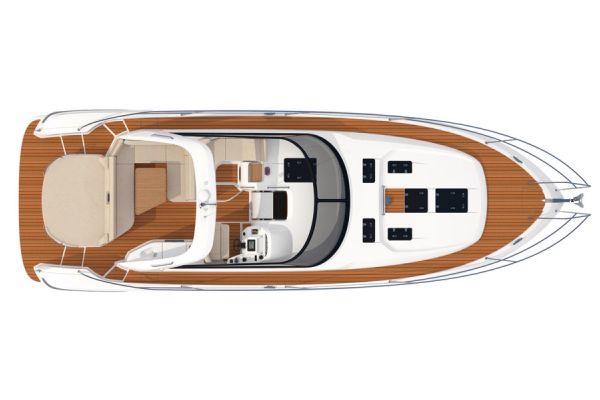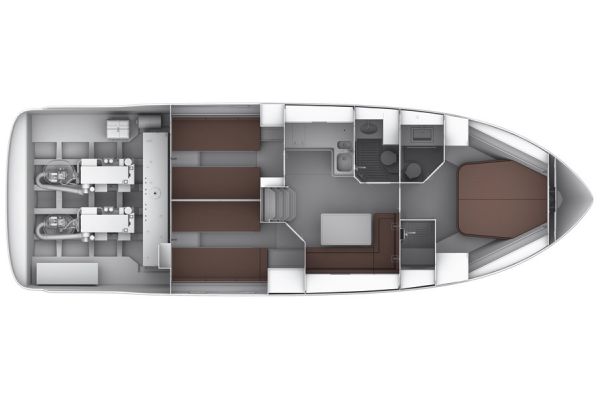 Check Your Credit Finance Insurance Boat Transport
Boat Description
---
Beam

14 ft 6 in

Max Draft

3 ft 7 in

Draft Board/Drive Up

2 ft 6 in

Max Seating Capacity

12

Hull Material

Other

Fuel Capacity

396 gal

Length Overall

45 ft 4 in

Cabin Headroom

6 ft 11 in

Number of Heads

3

Water Capacity

410 gal
Technical Data
Length overall (approx.) 13,83 m

Length hull (approx.) 13,22 m

Beam overall (approx.) 4,41 m

Height above waterline (approx.) 3,35 m

Draught, drive raised (approx.) 0,75 m

Draught, drive lowered (approx.) 1,10 m

Unloaden weight from (approx.) 11.750 kg

Fuel tank (approx.) 1.500 l

Water tank (approx.) 410 l

People, max. CE B 12

Cabins - Heads 2-2/3-2

Berths 4/6

Height in cabin (approx.) 2,10 m

Motorisation Gasoline (Mercruiser), 2 x 8.2 MAG HO DTS Brav. III XR/2 x 430 hp, Axius Premium Joystick for Mercruiser Gasoline Engines with integrated autopilotfunction in combination with Garmin chartplotter (only for twin engines)

Motorisation Diesel (Volvo Penta) 2 x D6-370 EVC/2 x 370 hp, 2 x D6-400 EVC/2 x 400 hp, 2 x IPS 500/2 x 370 hp, 2 x IPS 600/2 x 435 hp
Aquamatic Joystick (only for twin engines), DPH for Volvo Penta D4 and D6 engines
Standard Specifications
Hull
4 Hull windows to open up (with blinds)

Colored stripe on hull, dark grey
Steering wheel
Steering wheel in carbon design, height adjustable
Bow
Stainless steel bow fitting with anchor roller
Deck
Radar arch GRP

7 hatches to open up

3 cockpit windows to open up

Anchor box, self-drained

6 stainless steel cleats

Stainless steel bow rail

Stainless steel handrail and handrail at radar arch and in companion way
Bathing plattform
Teak on bathing platform

Bathing platform with bathing ladder (telescope)

Bathing platform, additive with Teak and bathing ladder (telescope)

Stern-shower for warm and cold water (warm water only in combination with warm water boiler)
Cockpit
Wetbar with sink

Stowage box in wetbar

Cockpit, self-drained

Cockpit light integrated in radar arch

Windscreen wiper, stb

Windscreen wiper, port with synchronous control

Windscreen (security glass)

Illuminated compass

Helmstand with double seat

Settee and sunpad with upholstery

Settee copilot (in driving direction) and integrated sunpad with upholstery

Cockpit upholstery

Cockpit table

Sliding companionway door in lamella style, white, tinted glass
Cabins
Two single berths, convertible into a double berth in aft cabin

Double berth in foreship

Mattresses fabric "New Drell"
Salon
Reading lamp

Roof lamps

Light package interior

Interior wood in solid and veneer, standard in mahogany

Faux leather covered panel ceiling

Settee in salon

Standard upholstery

Blinds and fly screen on hatches

Side windows in hull with blinds
Stowage space
Locker and racks

Stowage space

Stowage space under sitting area

Stowage space under aft sun pad

Overhead locker and wardrobe
Galley
Ceramic stove top

Refrigerator, 12 V, 110 liters

Double stainless steel sink, with cover
Safety
CE-fire extinguishing system

2 fire extinguishers

Fire blanket
Navigation
Navigation lights (BDI certification)

Sumlog-sonar,
Individual Options
Hull
Hull color silk grey

Hull color silk grey with colored stripe in white or dark grey
Bow
Bow thruster SE 100, electrical incl. operating battery
Solid wood
Teak on cockpit floor

Teak on side deck

DuraDeck on side deck, cockpit floor and bathing platform
Deck structure
Cup holder, stainless steel on deck structure

Sun upholstery on foredeck
Deck
Bathing platform hydraulically lowerable with solid wood (only in combination with additional board battery)
Sun Galley/Wetbar
Cockpit grill, 230 V

Refrigerator in cockpit, 12 V
Cockpit
Wetbar with high quality work plate, valve and cockpit door

Heating and ventilation for windscreen and cockpit (incl. hot air heating 3,9 kW)

Cup holder, stainless steel in cockpit

Cockpit upholstery "Suntex"

Bolster for sunlounger in cockpit

Light package cockpit with additional LED and stage illumination
Hood
Bimini, grey

Bimini, colored (additional cost to Bimini grey)

Camper cover, grey

Camper cover, colored (additional cost to camper cover grey)

In-harbour cover, grey
Salon
Additional wood color (teak or light oak)

Table in salon, lowerable (incl. couch upholstery)

Floor Ocean Line

Cabin carpet, fixable

Roller blinds for dimming the hull windows

Upholstery "Comfort"

Upholstery artificial leather "Leatherette"

Upholstery in leather and leather covered handrail in companion way

Salonstool in selected upholstery color (per unit)

Refrigerator pullout below salon seating
Galley
Microwave

Kitchen front colored, high gloss incl. high quality work plate

3-flame gas stove (with Refrigerator, 12 V, 80 liters instead of Refrigerator, 12 V, 110 liters)
Cabins
Additional cabin

Mattresses fabric "Comfort"
Climate control
Hot air heating, 5,5 kW, fuelling via engine fuel tank

Air-conditioning, 19.000 BTU, outlet in salon and each cabin
Multimedia
TV cabling digital + analog, incl. antenna with outlets

FUSION Advanced Marine Multimedia package 22": TV 22" in Salon with 2 x USB plug and DVD-device, Headunit with 2,7" TFT LCD screen, DVD/CD-receiver (AM/FM/VHF), 2 speakers in salon and 2 speakers in cockpit, Dock for iPod and USB, Amplfier 200 W, Active subwoofer, Remote control in cockpit, TV cabling digital + analog, incl. antenna

FUSION Marine Soundsystem in aft cab
Packages
Relax
Sun upholstery on foredeck and cup holder, stainless steel in cockpit, Engine bay ladder, Teak on cockpit floor, Refrigerator in cockpit, 12 V

FUSION Advanced Marine Multimedia package 22": TV 22" in Salon with 2 x USB plug and DVD-device, Headunit with 2,7" TFT LCD screen, DVD/CD-receiver (AM/FM/VHF), 2 speakers in salon and 2 speakers in cockpit, Dock for iPod and USB, Amplfier 200 W, Active subwoofer, Remote control in cockpit, TV cabling digital + analog, incl. antenna
Upgrade Relax with DuraDeck on side deck, cockpit floor and bathing platform (Replaces teak on cockpitfloor)
Sun & fun
Sun upholstery on foredeck and cup holder, stainless steel in cockpit

Engine bay ladder

Teak on cockpit floor

Teak on side deck

Air-conditioning, 19.000 BTU, outlet in salon and each cabin

Refrigerator in cockpit, 12 V

Cockpit grill, 230 V

Microwave

FUSION Advanced Marine Multimedia package 22": TV 22" in Salon with 2 x USB plug and DVD-device, Headunit with 2,7" TFT LCD screen, DVD/CD-receiver (AM/FM/VHF), 2 speakers in salon and 2 speakers in cockpit, Dock for iPod and USB, Amplfier 200 W, Active subwoofer, Remote control in cockpit, TV cabling digital + analog, incl. antenna
Upgrade Relax with DuraDeck on side deck, cockpit floor and bathing platform (Replaces teak on cockpitfloor)
Comfort – only in combination with diesel motorisation
Teak on cockpit floor

Engine bay ladder

Refrigerator in cockpit, 12 V

In-harbour cover

Camper cover, grey

FUSION Advanced Marine Multimedia package 22": TV 22" in Salon with 2 x USB plug and DVD-device, Headunit with 2,7" TFT LCD screen, DVD/CD-receiver (AM/FM/VHF), 2 speakers in salon and 2 speakers in cockpit, Dock for iPod and USB, Amplfier 200 W, Active subwoofer, Remote control in cockpit, TV cabling digital + analog, incl. antenna

Warm water boiler 20 l via engine-cooling circuit and via 230 V shore supply

Hot air heating, 5,5 kW, fuelling via engine fuel tank
Upgrade Comfort with DuraDeck on side deck, cockpit floor and bathing platform (Replaces teak on cockpitfloor)
Anchor
Electrical windlass

Delta anchor, galvanised

Anchor chain, galvanised, Ø 10 mm, 50 meters
Anchor package, stainless steel
Electrical windlass

20 kg Delta anchor, stainless steel with larger bow fitting and anchor chain,
stainless steel, Ø 10 mm, 50 meters
Navigation
VHF-cabling, incl. antenna

Chartplotter, Garmin GPSMap 4012 with GPS

Bow thruster SE 100, electrical incl. operating battery
Upgrade Touch-Navigation with Garmin GPSMAP 7012 (Replaces Garmin GPSMAP 4010/4012)