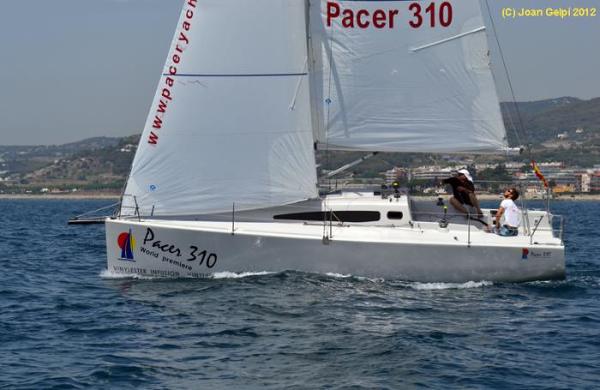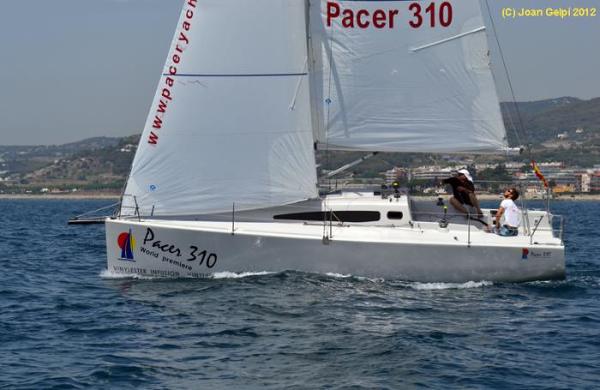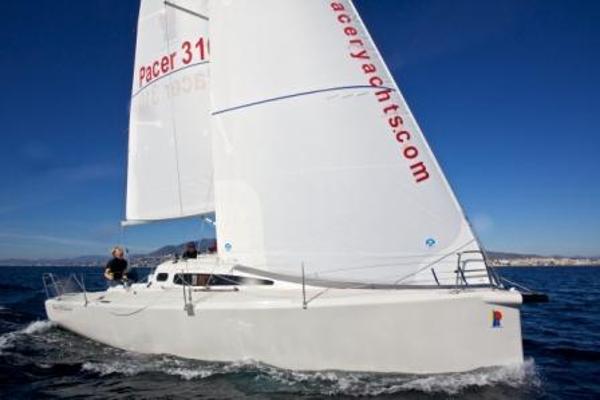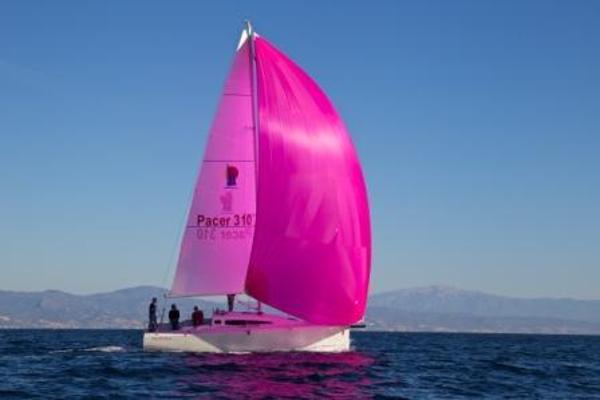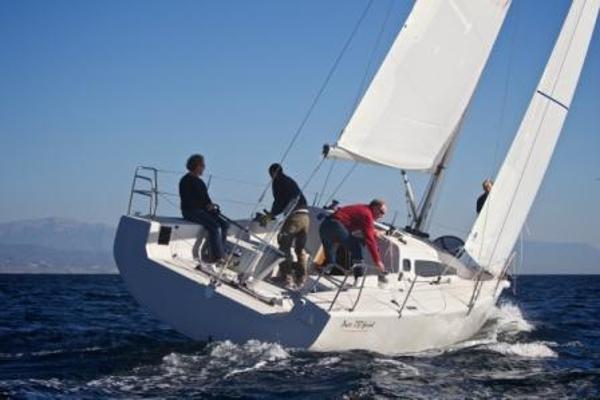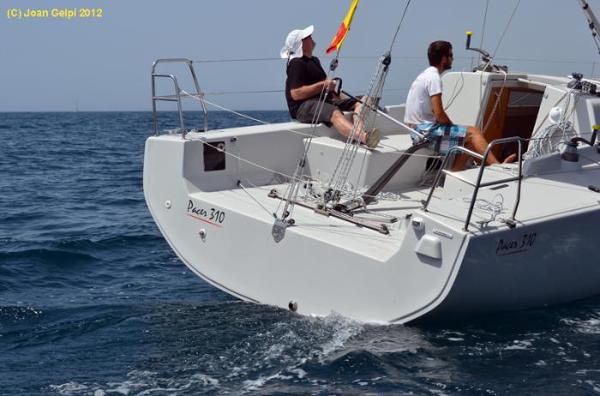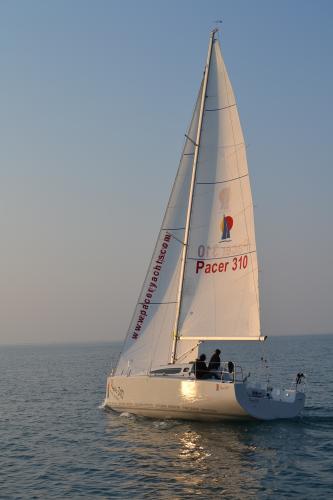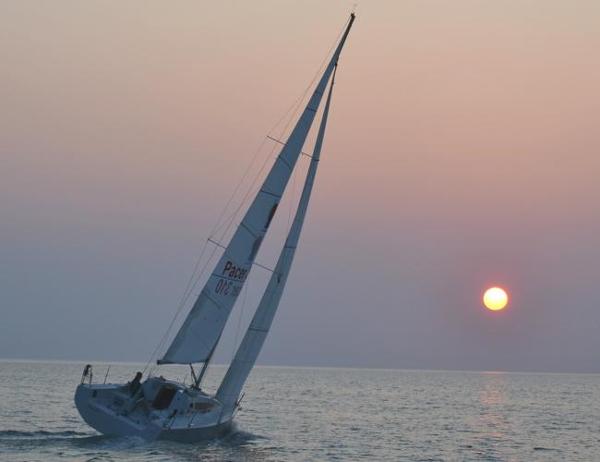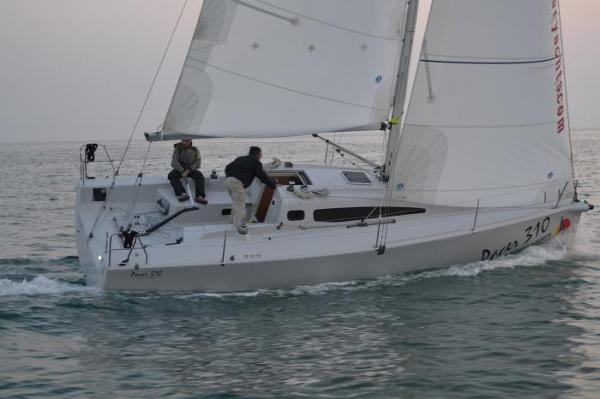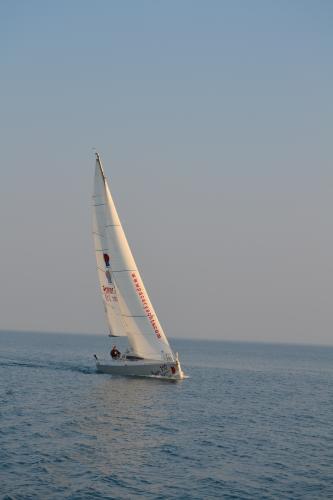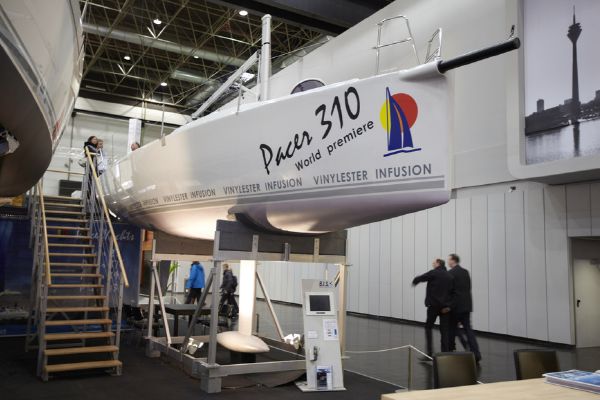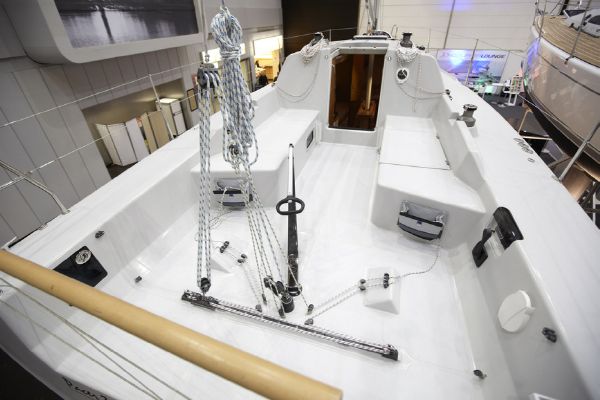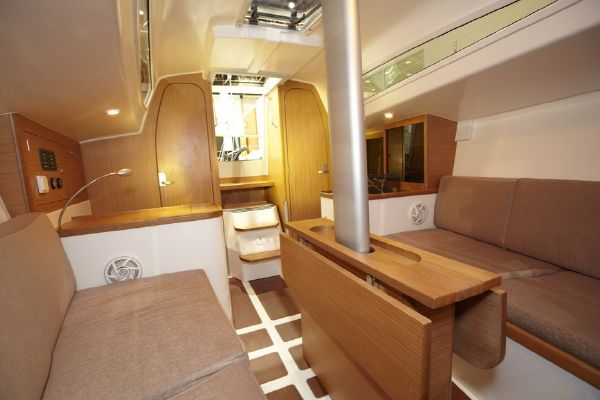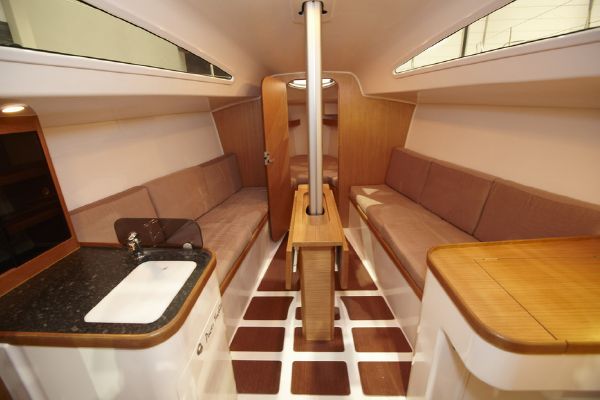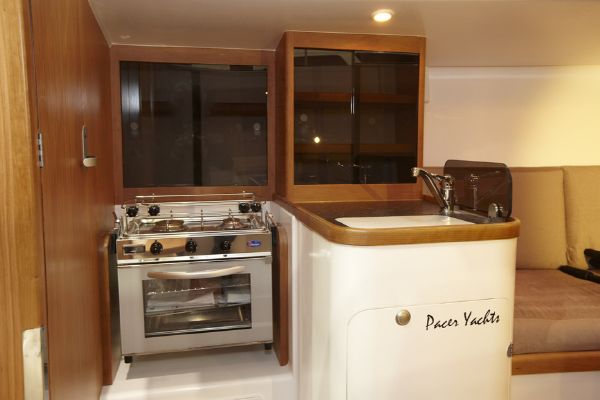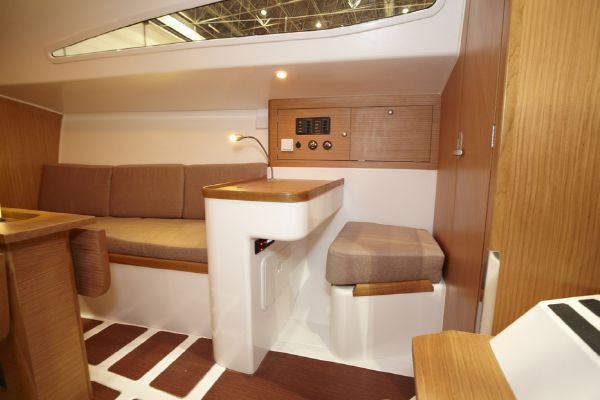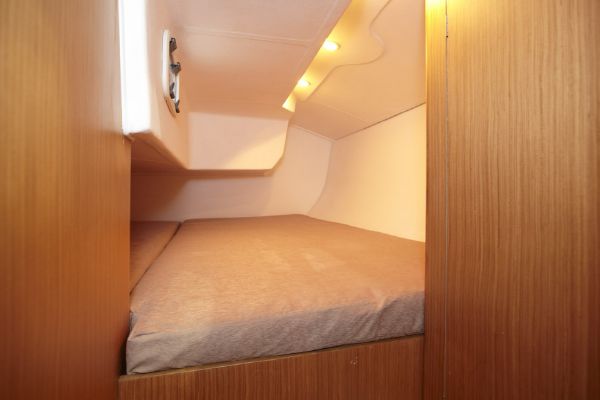 Check Your Credit Finance Insurance Boat Transport
Boat Description
The All New Pacer 310 Sprint.

Designed as a Cruiser/Racer, with a light displacement, high stability aspects, spacious modern Cockpit and full interior with standing headroom, the Pacer 310 Sprint will appeal to a wide sector of the sailing community.

For the Racers, the Pacer 310 Sprint is built as a strict 'One Design' class. For the Cruisers, the full interior with good stowage, 6 berths and comfort levels will answer many questions.

The overall thrust of this model, is quality and ease-of-sail.
---
Beam

10 ft 11 in

Max Draft

6 ft 7 in

Dry Weight

6736 lb

Hull Material

Composite

Fuel Capacity

21 gal

Length at Waterline

29 ft 4 in

Length Overall

31 ft 2 in

Number of Heads

1

Water Capacity

80 gal
Hull
The Hull is built using vacuum bagged hand lay-up.
The laminated construction consists of hydrolysis - proof vinylester resin, multidirectional fabrics and Balsa as sandwich material.
Internally the laminate is sealed using topcoat.
Deck and Hull
The Deck and Hull are bonded together using epoxy, providing a neat joint.
The laminated construction consists of hydrolysis-proof Vinylester resin, multidirectional fabrics and Balsa core.
In addition to reinforcements laminated into the deck for the standard deck layout, Hard spots for post O.E.M fitment of deckgear are integrated in the deck.
The Pacer 310 offers a factory developed non-skid surface which is white in colour.
Deck Gear
All lines lead back to the cockpit.
Halyards and sail trims lead to a series of power clutches and fairleads either side of the companionway garage, each leading to a respective Winch on the coachroof.
Winches: Lewmar
2 x Coachroof Halyard and spinnaker Winches – 2 x 30AST
2 x Primary Winches 40AST
2 Winch handle pockets and 2 winch handles are supplied.
The mainsheet track system is positioned aft of the Tiller position, with car position controls leading to port and starboard for easy of trimming.
The Backstay controls are brought forward from the transom to port and starboard positions adjacent to the wheel so affording ease of trim to either the helmsman or mainsheet trimmer.
The Jib car controls lead back to the cockpit.
Two recessed deck lights are installed on port and starboard just fwd of the open transom.
The (optional) Shore-Power plug socket is installed below the starboard coaming abeam of the Tiller position.
The exterior manual bilge pump point is positioned on port, aft of the steering wheel affording the helmsman easy access.
Cockpit
The Pacer 310 offers a large modern self-draining cockpit with open transom, all very well laid-out for ease of sailing and the cut and thrust of competitive racing.
There cockpit is spacious with good seating capacity.
The saloon table can be moved to the cockpit for al fresco dining.
The Gas locker is easily accessible on the port side of the cockpit, and the engine throttle control on the starboard side of the cockpit within reach of the helmsman.
Access to the lazarette (steering gear and systems) is via a waterproof frosted-glass deck hatch.
The coamings are contoured for comfort and the deck surfaces have the factory developed non-skid.
Galley
Positioned on Port at the foot of the companionway, the Galley is L shaped to offer best sea-going attributes.
Fitted with a single sink, pressurized cold water with faucet as standard and hot and cold as an upgrade.
The 12v removable cold box is located beneath the sink through a locker door, on a 'slide-out' mechanism.
The worktop is finished in an attractive and hard wearing composite formica and has a solid light Cherrywood fiddle on all sides.
A 2 plate, semi-gimbaled, stove with oven, is fitted as standard. Lockers for pots, pans and victuals are located above the worktop, with pull-out drawers under.
An opening Portlight provides fresh air ventilation, and is located in the coachroof above the galley.
Accommodations
Saloon
A spacious saloon with 2 linear couches adjacent to each other and a double-leaf fold down (removable) table compliment the saloon.
A stainless steel grab-handle is fitted to the underside of the coachroof (midships) to aid access to the saloon whilst at sea.
A ceiling liner with recessed halogen down-lighting affords a high quality finish to the saloon.
Forward Cabin
A Private Cabin, offering high quality double V berth mattresses with removable covers.
Smooth, easy-wipe hull liner as well as a ceiling liner with recessed halogen downlights.
Aft Cabin
The port side cabin offers a good sized double berth with locker.
Lighting in the form of bulkhead adjustable spots for reading.
Hull liner and Ceiling Liner gives a smooth easy-wipe finish.
A high density Mattress is covered in removable wear-resistant fabric.
Natural light and fresh air is accessible through a port light which opens to the cockpit.
Heads
Positioned aft of the Nav Station accessed via a door, the head offers a wash-basin with cold water faucet, toilet, integrated shower head with electric shower sump pump and integrated Wet Locker.
An opening Portlight provides fresh air and natural light.
Electrical
Batteries: 1 x 12v/55ah Starter
1 x 12v/100ah House
Mastervolt or similar Main Battery Switches.
Circuit Breakers for all electrical components.
Philipi or Similar Control Panel for Electronics.
25ah Battery Charger (optional)
Shore-Power and Plug & Cable. 220v Plug point at Nav Station. (optional)
Rigging
STANDING RIGGING
Dyform stainless steel wire shrouds and stays with roll-formed terminals and bottle-screws.
The backstay is adjustable via a Lewmar cascade and purchase system (16:1), adjustable from both sides of the cockpit adjacent to the steering wheel position.
RUNNING RIGGING
The mainsheet system (6;1) offers 2 conventional reefs, both controlled from the cockpit.
The mainsail and jib halyards are dyneema. There are 2 masthead spinnaker halyards.
The mainsail outhaul, and Cunningham, is adjustable from the cockpit.
Sails
North Sails/
Mainsail 8oz NSP 4800 Dacron
Furling Jib 6oz NSP 4800 Dacron with UV strip on Leach and Foot
Gennaker Code 3A True Radial 0.75oz Norlon
SAIL AREAS
Upwind 54.95m2
Downwind 103.29m2
P 11.5m
E 4.2m
J 3.87m
FL 12.54m
STL 5.43m
Additional Equipment
4 x Mooring Cleats
Safety Boarding/swim Ladder
Filler Nozzle for water tank on cockpit floor.
Filler Nozzle for fuel tank on cockpit floor.