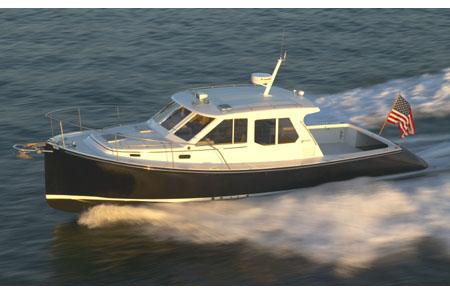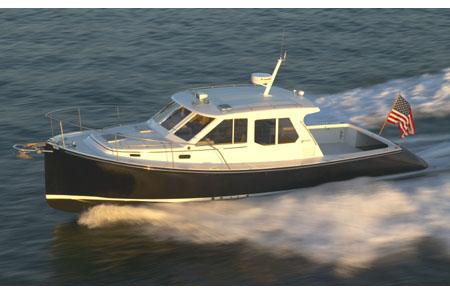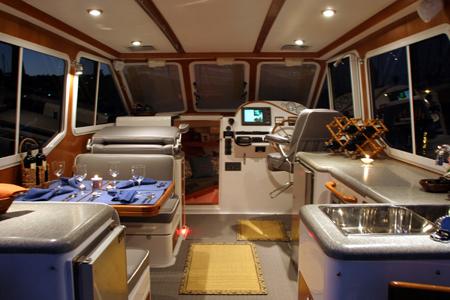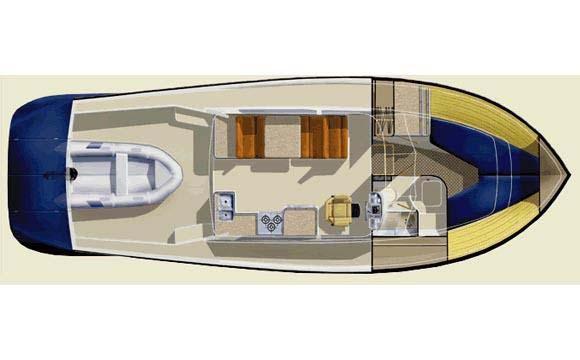 Check Your Credit Finance Insurance Boat Transport
Boat Description
The True North 38 has low profile timeless lines, a reverse transom finely appointed by True North's master carpenters, and a 360 degree, galley-up layout.

Active boating families wanted more room in the cockpit for all their outdoor activities. And they wanted space to stow their water toys like kayaks, wind surfers and dinghies as well as their mountain bikes, fishing and snorkeling gear. We also found that a high percentage of female boaters are not thrilled with their current boat's galley and eating arrangements, especially if these areas are located "down below." Families want to be together during the day on one level, where all the action is. So we designed the True North 38 to satisfy all members of the active family. For outside activities, the large cockpit is ideal for lounging, fishing, entertaining or as the hub for water sports activities. Large, double transom doors swing open for easy access to the water, just inches below the cockpit sole. With over 90 square feet of cockpit space, and wide deck seating, there's room for everyone to enjoy the outdoors. Best of all, the cockpit is designed to stow a 10-foot inflatable dinghy with an outboard motor. It's easy to launch and retrieve – just pull it in and push it out right through those wide doors. During a cruise, some owners stow their bikes or other water toys inside the dinghy. This system eliminates the need for unsightly davits or expensive lifts. The low profile and extra-wide side decks of the True North 38 also make it easy to stow a pair of kayaks on the pilothouse roof. Walking forward to handle lines or the anchor is also made safer thanks to the wide side decks and thoughtful absence of protruding cleats or hardware.

---
Beam

13 ft 6 in

Max Draft

3 ft 6 in

Dry Weight

15000 lb

Hull Material

Fiberglass

Hull Shape

Modified Vee

Fuel Capacity

226 gal

Length at Waterline

38 ft 6 in

Deadrise at Transom

12°

Holding Tank Size

28 gal

Water Capacity

98 gal
Additional Description
Very cleverly, the dinette area can be expanded when needed and does not take up too much space when just a few people are onboard. Its innovative, sliding seat arrangement expands seating from four to six people and easily converts into a double berth for overnight guests. Our answer to cruising with young children is an optional "sleeping loft" above the twin v-berths. Put the kids down early, and you have the rest of the boat to yourself.

Easy entertaining is high on everyone's list, so we kept the galley up, near the cockpit. Thirsty, hungry crew can step up to the counter from the cockpit without worrying about wet bathing suits or sandy feet. And whomever has galley duty will have no complaints, as the 360? view is the best view onboard.

Of course, all this well thought-out space is no fun if you're busy maintaining and fixing things. So everything about the True North 38 is designed to keep things simple.Starting with the dependable, single diesel engine and well-protected prop and shaft, the True North 38 takes its cue from the legendary New England workboats. You'll find no extra fluff and frills, just the things you need to enjoy your experience on the water.
Additional Description
The True North 38 is an ideal size for a couple with or without kids. There's plenty of room for supplies and gear for a two-week vacation, and several owners have taken more ambitious, lengthy cruises. You?ll be very comfortable yet not burdened by all the hard-to-maintain gadgets that have made boating too complicated and expensive. Equally appealing is how easy it is to make the boat ready for those spur-of-the- moment adventures. With a True North 38, you?ll find yourself taking her out more often without the need for time-consuming preparation. Just hop onboard and go. When you return, sweep it down, hose it off and she?ll be ready for you next time.

Of course being comfortable is vitally important at sea, and the True North 38 boasts an incredibly soft and comfortable ride even in rough conditions. They have often been spotted going out an inlet or protected harbor in conditions that keep much larger yachts tied up at the dock. When things turn nasty, you can depend on your True North 38 to get you home safely.
Additional Description
Take a close look at our specifications and equipment lists for the Sport, Heritage, and Classic models. You'll see how much thinking went into the True North 38 series.