Back to search results
How to Flake a Sail
Jeff Johnstone, President of J/Boats, takes us aboard the J/88 and shows us how to flake a mainsail.




Okay, we're going to do the shorthanded mainsail drop and flake. Skipper, ready to go into the wind?

As we bring it down we're going to pull down the luff of the sail on either side of the slider. Alternate sides to lower the sliders all the way.

Next we unshackle the main halyard and run it back to the end of the boom to support it. There's already a rigid boom vang to support it, but this helps too when we're flaking the sail. Tension the halyard back up.

Grab a couple of sail ties. We need that first big flake to go over the boom, with a nice big overlap, about a foot on either side.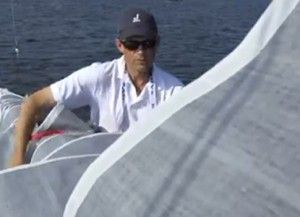 Before you lose the first flake, tie it off with a sail tie. That way the whole sail doesn't fall off the boom.

This particular J/88 has a fat head main, so in order to get the sailcover on we have to uncouple the top car. One last sailtie, and we're ready for the cover.

Take a Ride on the J/88