Back to search results
The Counter of Shame: Maintenance Mishaps
One of the many fascinating things we found at Norfolk Marine was their Counter of Shame, filled with outboard engine maintenance disasters.




Lenny: We've been here at Norfolk Marine shooting How-To videos for several days now, and Jason, thanks for having us.

Jason Murphy, President Norfolk Marine: Thanks for coming.

Lenny: I've got to tell you, one of the most interesting things I've seen here, as a boater, is your Counter of Shame.

Jason: Yeah, we have pulled some stuff out from the service department which we thought would be entertaining for you guys, to see what not to do. We have a wide array of outboard powered things like fuel filters that have not stood the test of time, that may have caused issues for some folks for some reason - these should really be changed every 100 hours, some say every 50 hours.

We have some exhaust tuners that have rotted out from not having used your freshwater flush, rectify regulators, some trim/tilt assemblies that have rusted out. I mean, proper boat maintenance is just essential to optimal performance.

Lenny: What is this?

Jason: That's a fried impeller, it basically looks like the core of a fan blade there.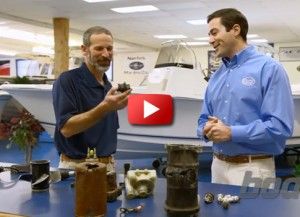 Lenny: I've got to ask you about this prop. What happened here?

Jason: This was actually run on a skiff in down-town Norfolk, on Granby Street. During a nor' easter a few years ago there was about two feet of water on top of the tidal surge, and they were using this for rescues. So when they brought this in it was quite a scene and we saved the lower unit for a while and we've saved this prop. It's quite a story.

Lenny: That's really neat. Can it be reconditioned?

Jason: Yeah, we'll send it right over to the prop-shop and see if they can work it out.