Back to search results
The Personal Watercraft Expert: Slow Down and Save Big
Use low speed mode to improve fuel economy and save money.


Yamaha recently sent out a media release proposing that owners could improve PWC fuel economy by 26 percent by riding with the "low speed mode" engaged. I guess hard times demand hard solutions, but Yamaha gets it exactly right. According to my experience testing the fuel economy of a wide variety of watercraft, most riders will realize a huge fuel saving simply by slowing down.

Consider this. In a recent test, a Yamaha FX SHO got 5.0 mpg at 30 mph, 4.8 mpg at 50 mph, and just 3.3 mpg at full throttle, or about 67 mph. That's a dip of 34 percent between 50 mph and wide-open. I found similar results when I went back and compared my fuel economy notes on a number of PWC I've tested in the past two years. Fuel economy is 20 to 30 percent worse at full throttle than it is at cruising speed. And just what is "cruising speed?" I've found fuel economy stays pretty steady between a minimum planing speed - generally about 20 mph - and about 80 percent of the boat's potential top speed. Using the last 20 percent of the throttle really sucks the fuel, as there's a diminishing return in the horsepower-to-speed ratio. Even worse, many high-performance engines are tuned to run extra-rich at high rpm, using fuel to help keep the pistons cool.

This notion is confirmed by the on-board fuel computer featured on the new Honda F15-X, which measures real-time fuel use and the amount of fuel remaining in the boat's tank, and then calculates how long you can ride at your present speed. For example, with 7/8 on the fuel gauge, the display told me I could ride for two hours at 30 mph, 1.5 hours at 45 mph, or just one hour at 50 mph.

I know you may be thinking that you didn't buy a PWC to go put-put around the lake. But here's another observation I'd like to share. At the intro of the 67-mph Kawasaki Jet Ski Ultra 250X last year, I got to spend several hours cruising around Lake Mead. It was a beautiful day, the desert scenery was enchanting, and the sky was blue. In short, a great time to just enjoy being on the water. And whenever I looked down at the speedometer, I was going between 45 to 50 mph. The conclusion I reached was that riding faster than that for any extended period of time was simply uncomfortable. The noise and buffeting of the wind at high speed is fatiguing, and as a rider you have to focus on controlling the boat at speeds approaching 65 mph. When it's time to cruise, I think most riders settle in at a speed that just happens to also be in the boat's most-economical zone.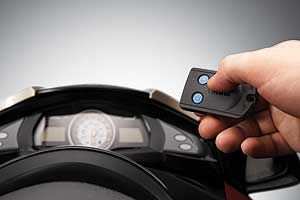 So if you accelerate smoothly onto plane and then have the self-control to stay below 50 mph, your fuel economy should be optimized. And if you don't have the self-control, engaging the "low speed mode" found on many new PWC will force you to slow down. Intended as a power-limiting device to keep beginning riders out of trouble, this mode holds speed to about 35 to 38 mph but still provides enough power for efficient acceleration.

If you are in the market for a new PWC and the price of fuel is a concern, consider this. In my testing, a 110-hp, 52-mph Yamaha VX110 managed 8.5 mpg at 40 mph, and 6.5 mpg at wide-open throttle. That's roughly twice the fuel economy of the current crop of 65-mph muscle machines, yet the VX110 and other boats in this power-and-price range can pull a wakeboarder and cruise in my comfort zone. And they cost thousands less at the dealership, too. Which pays for a lot of gas.