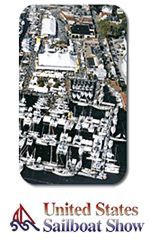 Annapolis Maryland: Exhibitors have announced the introduction of more than twenty-five new models for the coming season, to debut at the Annapolis Sailboat Show on October 7 - 11

Some of the new boats debuting at the show include: The Maxim 38, a sailing catamaran being introduced by South African builder Maxim Yachts. Also from South Africa is the Charter Cats Jaguar 36. The Impression 43 is a cruising sailboat by Elan Marine. Fontaine Pajot, the French multi-hull builder, announces the new luxury flagship of their cruising catamaran fleet, the Eleuthera 60. Canadian Builder Gozzard Yachts will introduce their Gozzard 44, a cruising ketch. Hylas Yachts of Marblehead will show hull #1 of the new Hylas 66. Columbia Yachts will introduce the Columbia 30 Sport Sailer. Dehler North American announces the 47 Dehler. Dufour is showing the Dufour 385. The Friendship 40 is being introduced by the Fontaine design Group. The Hinkley 42 Daysailer will also be introduced.

The Lagoon 440, the Vilm 117, the Grand Solieil 45 and 50, the Maine Cat 41, the Morris yachts M36, the Southerly 115 from Northshore Yachts, the T27.5 from Transfusion Boat Works, the AeroYacht H42 catamaran, the Island Packet and the X-40 from X-Yachts rounds out our list of debutantes at this year's show.

Ron Holland, designer of Mirabella, the world's largest sailing yacht, will be at the Trintella Yachts display on Thursday and Friday of the show, October 7 & 8. Holland will discuss the design process for the new Trintella 65.

Two special exhibits are also new this year. The Navy Sailing program at the U.S. Naval Academy will be showing a Luders 44 Yawl and a Mcurdy designed, cutter rigged Navy 44, illustrating the evolution of the Navy sailing program.

The show will also feature Arabella; a classic 160 ft staysail schooner offering luxurious sailing cruises on Chesapeake Bay, New England and the Caribbean.

Show Features



The hottest new racing and cruising boats from U.S. and foreign builders.


World's largest multihull displays courtesy of Multihulls magazine.


Seminars Friday through Monday, sponsored by The Sailing Company, publishers of Cruising World and Sailing World magazines.


Smaller boats from one designs and trailerables to sailing dinghies and inflatables.


Plus a vast array of sailing equipment, rigging and accessories.


Maintenance products and services.


Information on Cruising/Vacation Charters.



Hours & Admission:
Thursday, Oct. 7, 2004 VIP Day, 10 a.m.- 6 p.m. - $30 per person
Friday, Oct. 8 thru Sunday, Oct. 10, 2004 10 a.m. - 7 p.m.
Monday, Oct. 11, 2004, Columbus Day 10 a.m. - 5 p.m.

Ticket Prices
Adults - $16
Children - $8 (age 12 and under)

Ticket information: (410) 267-6711
General Show & Exhibitor Information: (410) 268-8828

Download the Adobe PDF Ticket Order Form (20k)