See more articles
Andy Kostanecki Awarded US Sailing Herreshoff Award
At the United States Sailing Association's Annual General Meeting awards dinner on Saturday, October 20, US Sailing Past Presidents Bill Martin and Lynn Steadman presented Andrew (Andy) Kostanecki wit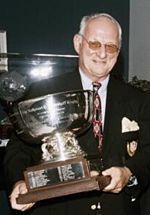 At the United States Sailing Association's Annual General Meeting awards dinner on Saturday, October 20, US Sailing Past Presidents Bill Martin and Lynn Steadman presented Andrew (Andy) Kostanecki with the Nathanael G. Herreshoff Trophy. Since 1957, US Sailing has annually recognized a sailor for exemplary life-long service to Sailing.

"Andy's service to Sailing spans four decades and includes service in the trenches of our committees," said the committee that nominated Kostanecki. The committee noted that he previously served as a US Sailing officer (treasurer and vice president), and provided "leadership of our successful Olympic team in Korea." Kostanecki also served "national and international leadership roles as an officer of the United States Olympic Committee, and as representative to and committee chair of the International Sailing Association Federation." Kostanecki was awarded the ISAF's gold medal in 1996 for outstanding service.

To a standing ovation, Kostanecki accepted the award. "I have always thought that the best awards are those that include the names of your peers from years past and years to come. But in this case as I read the names of those that have preceded me, I am reluctant to call them my peers. After all, these are the giants of our sport and I consider myself lots of things, but a giant from within my sport is not one of them."

Those who nominated him would surely disagree. "In each and every job, Andy was a leader and served us with distinction," the nomination continued. "He is the only sailor to have ever been elected by all 44 Olympic sports as an officer of the United States Olympic Committee. On the international level, Andy served as Chief de Mission for the recent Sydney Paralympic Games. Sailing's positive reputation among the leadership of America's Olympic family can be traced to Andy's outstanding twelve years of leadership on our behalf."

Kostanecki said, "When I look back at my life, it is full of the most incredibly rich memories involving Sailing, US Sailing, ISAF, USOC and the Olympic Team. There is so much that I owe to US Sailing for its part in helping to create those memories that it is hard to believe that I am receiving an award on top of it all."

In accepting the award, Kostanecki presented US Sailing President Dave Rosekrans with an Olympic Torch. "I would like to place this gift which I received from the Soviet Sailing Federation during the 1986 Goodwill Games in US Sailing's hands to do with it what it likes. It is a torch from
the 1980 Olympic Games which the United States boycotted. It is inscribed in Cyrillic as a sign of friendship from the Soviets."

The committee nominating Kostanecki consisted of US Sailing Board of Directors Members Bruce Eissner and Mike Schoettle and Past Presidents Bob Hobbs, David Irish, Chuck Kober, Bill Marin, Jim Muldoon, and Lynn Stedman.

The Nathanael G. Herreshoff Trophy was donated in 1957 by the National Marine Manufacturers Association and is awarded annually to an individual who has made an outstanding contribution to the sport of Sailing in this country in any associated activity.

Mr Herreshoff was one of the preeminent designers and builders of his time. Born in Bristol RI in 1848, "Captain Nat" was a mechanical genius with a love for boats. He learned building techniques from the old craftsmen of Bristol, studied mechanical engineering at M.I.T., and began an unprecedented career that included many innovations in the design and construction of military, commercial and pleasure craft, both steam-powered and sail. Perhaps his greatest feat was designing and building yachts that successfully defended the America's Cup in six consecutive matches from 1893 through 1920, a span of 27 years. His success in the varied aspects of the industry earned him the nickname, "The Wizard of Bristol."

The United States Sailing Association (US Sailing) is the national governing body for the sport of Sailing. The mission of this volunteer organization is to encourage participation and promote excellence in Sailing and racing in the United States. More information about US Sailing, which is headquartered in Portsmouth, RI, is available at www.ussailing.org.