See more articles
Beneteau Gran Turismo 49: Queen of the Sports Cruisers
Join Zuzana Prochazka in Fort Lauderdale for a quick look at the luxurious updates Beneteau has added to the Gran Turismo 49.
Welcome to the Beneteau Gran Turismo collection. There are four boats in this collection: 34, 38, 44, and the 49. We're on the 49, which comes in two versions: a hard top, and the flybridge version.

The 49 came out in 2011, but Beneteau tweaked it to make it a little more luxurious. And all the details and the finishes are just great. Look at this: the trash can slides right out!

The 49 comes in 2 and 3 cabin versions. This is the master, and it has a great big king-sized bed. And it has a nice lounge; you can just sit here and read.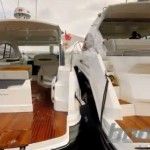 Now your guests won't be roughing it either. This is the second cabin with its own entrance to the head. Not too shabby.

For more information, visit the Beneteau Gran Turismo page.

Watch our
" target="_blank">Beneteau Gran Turismo 49 Short Take on YouTube