Back to search results
Beneteau Signs Gary Jobson as Official Spokesperson
Gary Jobson, the most publicly recognized personality in sailing, has signed an exclusive agreement to act as Beneteau USA's official spokesperson for the video promotions of their sailing yachts. Job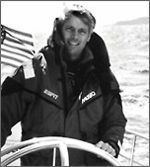 Gary Jobson, the most publicly recognized personality in sailing, has signed an exclusive agreement to act as Beneteau USA's official spokesperson for the video promotions of their sailing yachts. Jobson has commentated on and produced past videos for Beneteau USA and it was a logical move to endorse the relationship as a formal agreement. As a former All-American collegiate sailor, America's Cup winner as tactician for Ted Turner, broadcaster/producer, ESPN commentator, lecturer, and writer, he is the pre-eminent ambassador for sailing in the U.S.

"As one of the biggest sailing personalities and the leader in his field, it seemed a perfect match to have Gary as the spokesperson for the US operation of the world's leading production sailboat manufacturer", said Wayne Burdick, President.

"We are extremely excited to endorse Gary Jobson as our official spokesperson. It will be an honor to work with someone as knowledgeable and so well known within the sailing community. His association with Beneteau USA confirms the credibility of our sailboats and he certainly adds personality to our video," said Rachel Sweeney, Marketing Director.

Gary Jobson and Jobson Sailing, Inc. will commentate and produce Beneteau USA's Full Line Video on an annual basis for the next 3 years. Production for the new 2002-2003 video will start in May and will feature footage of the newly expanded state-of-the-art factory in Marion, SC. The Beneteau USA Full Line Video will include both sailing and interior video footage of the entire model line. The video will be available late this summer in both VHS and CD/ROM format and will be able to be purchased on line at www.beneteauusa.com or by calling (843) 805-5000.