Back to search results
Boat Speed's the Thing
Whether powerboat or specialized sailing craft, the pursuit of speed remains enticing.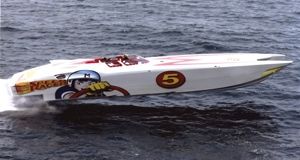 In a warm locale like Miami, Florida, the locals think it's too cold to swim in the winter and often too cold to be out on the water at all. But you can get a beautifully warm stretch in February, like I did at the boat show a week ago. I had a good time sailing on the M-29 daysailer on Biscayne Bay for a couple hours, but you can also have a good time running down to Islamorada in the Florida Keys, as my colleague, Matt Trulio, did during the boat show poker run on Speed Racer, a high-speed catamaran. In his column this week, Matt points out how much fun an event can be, getting folks motivated for a little adventure and socializing together. And in the boats Matt likes to ride, which range in speeds from sedate to 180 mph, there's plenty of room and time for both!

If speed turns you on, but not the internal combustion thing, you might want to follow the progress of Vestas SailRocket, a cool sail-powered craft that's aiming to break the sailing speed record, currently held by kite surfers at just over 50 knots on a 500-meter course. SailRocket is a hybrid catamaran…well, really a monohull with foils and a giant sail mounted on an outrigger, and back in December it hit 47.36 before doing a spectacular nose-up flying loop and crash at something like 60! It was the fastest non-board (i.e., boat) until the Australian design, Macquarie Innovation, a tripod-like wing-sailed design, topped 48 knots.





Today, Paul Larsen, a 38-year-old Aussie pilot/promoter, is back at it, sailing on Walvis Bay, Namibia, and he got Vesta SailRocket up to 44.02 on the 500-meter course. He also sailed down a full mile course at an average of 41.2 knots, which means he did about 2000 yards in just over 90 seconds. So SailRocket is still shy of Macquarie Innovation for 500 meters and, still a couple knots shy of the French hydrofoil trimaran Hydroptere for the mile. (Check out the video of Hydroptere if you have a minute!) Stay tuned.