Back to search results
boats.com Sneak Peek: Skeeter ZX22V Open Ocean Fishing
The Skeeter ZX22V proves a solid, stable vessel in rough waters.
What a perfect day for a test run.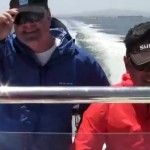 Off-to-port Catalina Island was a mere smudge on the horizon, on our starboard side the west coast slid by in a blur, and dead-ahead calico bass were waiting to be caught. They wouldn't have long to wait, because the Skeeter ZX22V captained by Ben Florentino of Coastal Charters boasted 225 Yamaha horses on the transom, and was hauling its load of anxious anglers to the fishing grounds at more than 30 mph. If you think that doesn't sound very fast for this boat, you're right — cruising speed is closer to 40-mph and top-end breaks 50. But remember, we were in open ocean. In fact, it's a credit to the way this boat is designed and built that we could even think about making our 12-mile run to Florentino's favorite kelp beds in this 22-footer.

Blasting through three foot waves the Skeeter felt rock-solid, thanks to construction touches like a single-piece deck constructed of sandwiched layers of PVC cross-linked foam and fiberglass. Aircraft-grade aluminum ties the stringers and transom together, distributing stress throughout the structure. Hatches—many with full-length piano hinges—are injection-molded to maximize strength while minimizing weight. Aluminum backing plates are laminated into the deck where the console's attached. Build a boat with these techniques on a 20-degree deadrise hull, add in a pair of concave reverse chines, then give it strakes plus a transom set-back, and you get a boat that feels like granite underfoot yet has the grace of a gray-hounding wahoo. As we ate through the Pacific there were no rattles, vibrations, or slams to speak of. You can see what I mean in this video, which was all shot in the open ocean.

Plus, three live wells (for a total of a hundred gallons) is enough to make our hearts sing.