See more articles
boats.com Marine Industry 2005 Web Awards Winners
Sunsail and Neilson Holidays share Best Overall award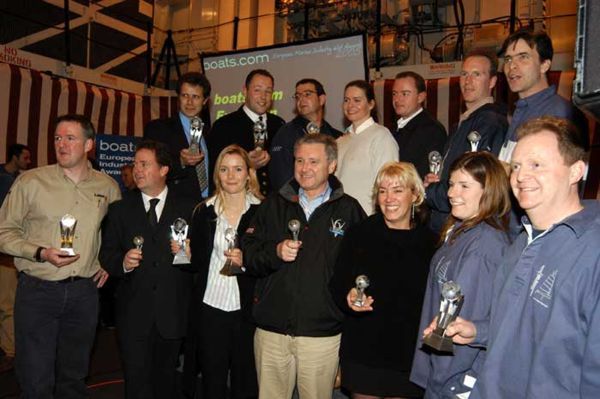 The Schroders London Boat Show saw the presentations of the third annual boats.com Marine Industry Web Awards in association with the BMF take place onboard HMS Sutherland on Tuesday January 11. Thirteen marine companies won industry acclaim when they received their awards at the prestigious presentation ceremony. The winners were selected by a panel of judges from over 125 nominations which were received.

Over 80 representatives from the European marine industry attended the award presentations which once again, saw sailing holiday providers leading the way in web communication. Previous winners, Sunsail and Neilson Holidays took joint winner positions in the Best Marine Site Overall award.

Pip Tyler, Overseas Director of Neilson commented; "We are delighted to win one of these prestigious awards again. We strive to make our site user friendly and informative and this effort has once again, been recognised. It's a great initiative for our industry and we will definitely be entering the 2006 awards."

Matt West, MD of Sunsail Europe also commented on their success; "It's great to see the holiday companies leading the way yet again. We're very pleased to accept our award and are delighted to hear that the features we have on our site are not only unique but useful and impressed the judges."

Sunsail and Neilson also took top spot in the Marine Business category followed by Crown Blue Line, part of the Sunsail group, in third place.

Leading dinghy manufacturer, Laser won the Best Manufacturer category for the third year running with www.lasersailing.com with Sunseeker International taking 2nd place with www.sunseeker.com and Wally Yachts of Monaco receiving 3rd place with www.wally.com.

UK yacht brokerage, Bray Marine Sales took the top Broker/Dealer spot with www.thamesboatsales.co.uk followed by sportsboat dealer, MasterCraft in 2nd place with www.mastercraft-europe.com and BRP distributor, Jets Marivent in 3rd place with www.jetsmarivent.com.

Leading yacht paint manufacturer, International Paint won the Best Marine Equipment category with www.yachtpaint.com whilst leading outboard manufacturer, Suzuki marine scooped 2nd place with www.suzukimarine.com and Sims Leppard, specialists in stainless steel, aluminum and titanium manufacturing for the marine sector took 3rd place with their site www.simsleppard.com.

A Special Commendation award was also presented to the Royal Navy for their impressive website, www.royal-navy.mod.uk which judges felt could not be overlooked. The first presentation of the ybw Consumer Award, voted for by the general boating public, was also presented to National Solo Class Association during the ceremony.

Ian Atkins, MD of boats.com went on to comment about the awards; "We hope that the boats.com awards will encourage more companies in our industry to look at their sites carefully from the customer's perspective and to develop them as an integral part of their business. We hope to see more companies entering next year and to see improvements based on our feedback and the high standards being set by Sunsail and Neilson. We congratulate all the winners."