Back to search results
Credits Available with Purchase of a Moomba at Boat Shows
Moomba announces a discount program on options for the winter boat show season.
As dismal as the econonomy has been, it does foster some aggressive pricing programs. While we bounce along the bottom of this God-awful recession, there are still great deals to be had on new cars and trucks, and mortgage interest rates remain at historical lows. So it stands to reason that you should be able to find a deal on boats too, right? You bet.





Moomba has long been a player in well-equipped, affordable wakeboard boats and this boat show season, it has taken the notion of "value added" to new levels. Moomba is now offering buyers the choice of up to five options and packages for $500 on all its boat models. Check out the chart for specific deals.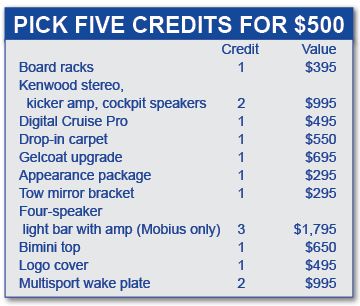 So let's say you have a family with lots of friends who like to ski and go wakeboarding and kids who love to be dragged around in a big old tube. Sure the incentive program is nice, but you're not important enough to be living large on your own federal bailout. So you still need something affordable. You should probably go with an Outback V, a perennially affordable Moomba that was completely redesigned in 2009.

Base MSRP on an Outback V is $39,595, and that gets you a Rad-a-Cage tower, a 325-hp Indmar 5.7-liter V-8, with digital cruise and a single-axle trailer with torsion-bar suspension and disc brakes. That's a great deal on a tow boat with plenty of power to do everything you need. Now let's focus on getting the most valuable options for our $500.

Your needs may vary, but to create a truly usable multisport boat, you need board racks. You also need the wake plate. Now, how to best select the rest? Well, the boat comes standard with digital cruise and a stereo, and because a competent audio shop can do pretty much whatever you want later—at a comparable price—skip those options and go for those that make ownership and use a bit easier and more pleasant. Get the drop-in carpet, the bimini top and the boat cover.

That's $3,085 in options for five C-notes. You also might want to add the base ballast package for $695 so your skills won't eventually exceed the boat's capabilities. So for $40,790, you get a boat that would have cost you $43,375.

Is there a catch? Always, but those that apply to this program are easy to take. To qualify for the factory incentives, Skier's Choice must receive faxed written contracts seven days before or after the boat show you attend. In addition, the incentives are only available at boats shows between the first of the year and Feb. 28, 2010. Lastly, buyers must put down a deposit at the boat show and take delivery of their boat no later than May 30, 2010.



If there were ever a time to get a good deal on one of the most competitively priced wakeboard boats on the market, it's now.



Editor's Note:
Brett Becker
is a freelance writer based in Ventura, CA. He covers the marine, automotive and racing industries for various print and web titles.