Back to search results
Digital Vagabond: Young Guns Stake Their Claim
Sarasota spawns the next generation of high performance sailors
The Red Bull Youth America's Cup classified 'youth' sailors as anyone under the age of 24. And what a load of nonsense.

In many events the 'juniors' division cuts off at 23. Yet at age 18 you go to court as an adult. I draw the line at the host-country's drinking age. If you have to be snuck into the tent, you're a youth.

A few weeks back I found myself for the first time in Sarasota, Florida, shooting video for the inaugural F18 Americas Championship Regatta. The F18 is a two-man (or woman), high performance, double-trap catamaran. The boats are fast and the competition is intense. Picture 56 entries, and besides the regular ringers, there was Olympic and veteran multihull talent in contention. That said, the best story--and one of the most impressive fights-- came from one of the youngest crews. Locals. Products of the very program that was hosting the event, the Sarasota Sailing Squadron.

Meet two real youth sailors, Ravi Parent and Sam Armington, 17 and 18 respectively:

">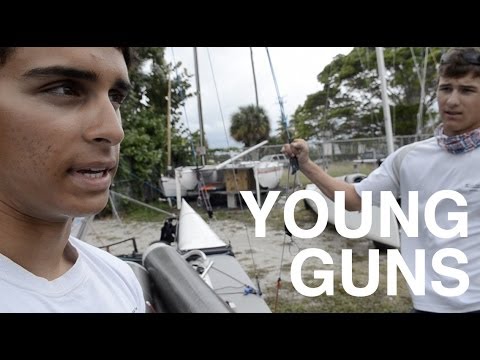 And let's get real about classifying youth sailors, because there's an actual generation of
young guns
with the skills to clean up on a world-class race course that you don't want to get caught next to under the tent.
Overall Winners
1. Mike Easton/Tripp Burd 41 pts
2. Gunner Larsen/Ferdinand van West 45 pts
3. Taylor Reiss/Matthew Whitehead 66 pts
4. Ravi Parent/Sam Armington 80 pts
5. Cruz Gonzalez-Smith/Mariano Heiser 81 pts