Back to search results
Dusty McCoy Interview: "Thanks to innovation, boating will get better and better and better."
Editorial Director John Burnham had a chance to sit down with the CEO of Brunswick, just before the Miami Boat Show opened.




John Burnham: Some of your boat brands here have put out a lot of new products, like Sea Ray here and Boston Whaler, in recent years. Whether as the chairman of Brunswick or as a long-time boating nut, what excites you the most about the new products here today?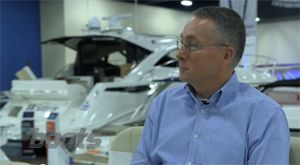 Dusty McCoy: Well first let me just speak a moment about our investment in new product. We're actually moving our investments in new product, in R&D as an example, to about 4 percent of our sales. When I say this year I mean 2013. So we're stepping up dramatically our investment in new product, and really we've been doing so for the past eighteen months.

What's exciting me most about the product is the innovation we're seeing, and that's really coming in three places. First in styling: Over my right shoulder is our Sea Ray 51. Entirely new atrium look. It's a bit of a cruiser's style and yet the lighting inside is absolutely magnificent. One of my complaints always is about the cruiser type model is you can feel a bit like you're in a cave when you're down in the boat. This boat doesn't feel that way. So the innovation in styling is wonderful.

And it's just not Sea Ray. We have a Harris Crowne that's a pontoon. But it sure doesn't look like a pontoon. It is the most luxurious thing I've ever been on—it matches any large yacht that we build. So the innovation our people are bringing to product is absolutely fabulous.

Quality of engineering continues to rise dramatically. And the way we can see that is the way we are able to cost our boats. Unfortunately what's happened in the industry now for several years in my judgment is that every time we bring out a new model, we add features. And those features add, pick a number, about 10 percent to the cost of the boat. And then by the time we and our dealers margin on top of that, we've continually as an industry brought out new models that are 15, 20, 25 percent more expensive to the consumer than the models they replaced. We have to stop that, as an industry. The car industry's been able to take care of that, the electronics industry's been able to take care of that, and my judgment is the marine industry can take care of that.



The way you do that is through fantastic engineering, great sourcing, working with the supply chain, and continually looking for features one can put on boats, accessories one can put on boats, that do everything you wanted and more, and cost less. Our guys, our men and women, are really focused on that, and we're beginning to see that. Again, this wonderful boat over my right shoulder is but one example.

And then lastly, there are features that will go on the boats that will make boating easier, more productive for consumers, and my judgment is, we'll continue to draw consumers when we make boating more fun, not such a challenge. So Zeus, stern drives, things like that we've brought in, we now have joystick docking on outboards. It's that sort of innovation that if we keep bringing into the marketplace we'll change boating.

Now we're beginning to think about all across the industry the dashboard. We all live, and you're interviewing me today, off an iPad. We're all used to working with screens that you can touch. All the old gauges and dials that we're used to having on boats are going away, and they need to go away fairly quickly. And just the ability to control one's boat from an iPad, to be able to use screens to maneuver the boat, to monitor the boat, is where we're going. So this innovation in the interaction between the boater and the piece of equipment is going to continue to grow dramatically.

So we add all that three up, boating's just going to get better and better and better. And for consumers, the ability to enjoy and be safe on the boat is just going to continue to increase.

John: Thanks for your time this morning.

Watch Dusty McCoy Interview: Talking YachtWorld Heroes on YachtWorld