Back to search results
The Personal Watercraft Expert: Stand-Ups On Notice
The EPA gives stand-up PWC two years of life support.


The Environmental Protection Agency has put stand-up watercraft on the clock. The countdown ends on January 1, 2012. After that, the Kawasaki Jet Ski 800 SX-R and the Yamaha SuperJet will need to comply with the same exhaust emissions rules that will go into effect for all other PWC in 2010. Already banned for sale in California and New York, the new EPA rules could well be the last nail in the coffin for the original PWC, at least as we know it.

In drafting new emissions regulations for marine engines, which became law in September, the EPA already cut the Yamaha and Kawasaki stand-ups some slack. These are the last PWC on the market powered by a two-stroke engine, each a light, compact and powerful twin-cylinder motor. It's the perfect powerplant for a narrow-and-nimble stand-up, and also incredibly dirty by current standards. These boats have stayed on the market this long because the previous EPA regulation allowed the manufacturers to average the emissions of all the craft they built. For the 2008 model year, the 1,898 stand-up models sold accounted for just 2.7 percent of all PWC sales, and even within the Kawasaki and Yamaha sales totals there were enough lower-emissions four-strokes sold to counter the output of a few stand-ups.

The new rules still allow averaging, but there's also a cap on maximum emissions of any engine family: 60 grams per kilowatt hour of combined hydrocarbon (HC) and NOX (nitrogen oxide). And there is no way a carbureted two-stroke of reasonable size can get below that cap. According to the EPA, the Kawasaki Jet Ski 800 has a combined HC/NOX federal emissions level (FEL) of 210. The Yamaha SuperJet is even worse, at 246. These engines only make about 80 hp. Consider that the 260-hp engine in the Kawasaki Ultra 260X has an FEL of just 16 - 92 percent lower than the Jet Ski 800 - and you can see how far the industry has come in cleaning up PWC exhaust emissions. The new EPA standard comes close to adopting the CARB Three Star emissions level (16 g/kWh) for all 50 states, and with some slight re-tuning, most of the four-stroke engines already CARB Three Star rated will meet the EPA rule in 2010.

Yamaha and Kawasaki were able to persuade the EPA that its stand-ups were a special case. Neither company has a four-stroke engine that could replace the compact two-strokes in these boats. And the very low sales volume precludes making much of an investment in not just a new engine, but also in the new boat required to support an engine that would most likely be larger and heavier. And Yamaha and Kawasaki could point out that because sales of these boats are so small, they don't make much of an environmental impact anyway. That argument worked until the new emissions cap was put in place.

One option might be a catalyst combined with fuel injection and lean oil injection, a combination that allowed Yamaha to get its GP1300 model down to an FEL of about 36.5 and keep it on the market until last year. That 1296cc two-stroke motor was rated at about 155 hp, so a less-powerful engine would have an even lower FEL. Another would be to adapt a compact four-stroke motorcycle engine for use in a stand-up PWC, and both Yamaha and Kawasaki have very powerful single-cylinder four-stroke engines in off-road bikes that might fit the bill. But each of these options would required an engineering and manufacturing investment that might take a long time to pay off, given the small sales volume of these models and the slack economy. Stand-up sales have dropped by 50 percent since 2005.

There is s a third path Yamaha and Kawasaki could follow. If the SuperJet and Jet Ski 800 were sold "for competition use only" they could be exempt from EPA emissions regulations. According to a source at Yamaha, in this case sales would be tightly restricted and dealers would need to verify that the craft was sold to a licensed racer for used only in competition, and the PWC would then be registered for race-only duty. I'm betting on this last scenario.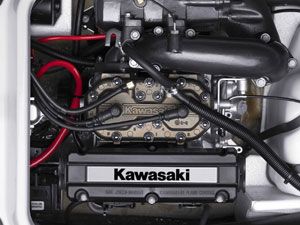 Lightweight, compact and powerful, this 781cc twin-cylinder two-stroke engine is the perfect match for the agile Jet Ski 800, but it's high exhaust emissions levels belong to a previous era.