See more articles
Five Fishing Apps for your Smartphone
Can your phone really help you catch more fish?
They say that ten percent of the fishermen catch ninety percent of the fish, but today, ninety percent of the anglers out there have cell phones in their pocket – and this could change the original equation. Yes, modern technology and fishing apps can help you catch more fish. Whether you're cane-poling for carp or trolling for tunas, you should check out these five apps which can help you boost your catch rate.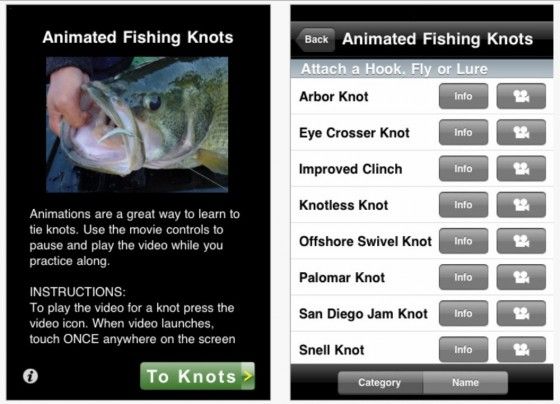 1. Animated Fishing Knots – If you have a poor Palomar or are bummed by the Bimini Twist, you need to hitch up with this app and solve the problem. Six new knots have been added in full animation in the latest version of this app, 1.4, bringing the knowledge-base up to 31 knots. It's compatible with any iOS 3.2 or later version, and costs a measly 99 cents at the iTunes store.





2. Flick Fishing – This is the top-selling fishing app for iPhones, and it's among the top 25 apps of all time. The starter version is also 100-percent free, an attribute we love about any app. But, it's not likely to help you score more fish in the real world; Flick Fishing is a game. Still, put it on your must-see list because it is a lot of fun, and when I showed it to my 12 year-olds, I had to fight to get my phone back. You get to choose where you fish, what you fish with, and which species to target, just like an actual day on the water. You cast by flicking the device, hence the app's name. Flick Fishing is so popular, it even has its own fan site.



3. Collins Fishing Flies — This app is a mega-resource for fly anglers, with over 1,000 photographed fly patterns in its big app-brain. And it should be this smart, considering the not-so-small app price tag of $4.99. Still, there's a wealth of knowledge in here including search features and break-downs by species and/or location. Collins Fishing Flies includes the flies used when angling all over the world, with sections on shrimps and prawns, larva and pupa, spiders, and more. Both saltwater and freshwater patterns are thoroughly covered.



4. My Fishing Advisor – Here's a fishing app for Android users: My Fishing Advisor is a data-cruncher that takes environmental factors (like sun and moon phase, temperature, spawning patterns, and more) into consideration, and comes up with suggestions for when and where to fish, what to use, and which tactics will be the most effective. Personally I've never put a lot of stock into fishing "predictions" like these, but some users find them helpful when they can't seem to score a strike.



5. Navionics – Anglers straining new water for bites will probably find Navionics one of the most useful apps on the water. While it isn't sold as a "fishing app" so much as a boating app (we covered this one in our article on the Top 10 Apps for Power Boaters), the detailed contour lines and depth readings will help you find plenty of fishing hotspots like ledges, holes, and humps. The Navionics app is also a wonderful navigational tool, and on top of that, has tidal, current, and weather data which will certainly be of use to anglers. The Navionics app is for both Android and iOS platforms, and offers world-wide coverage. The down-side? There are a lot of different versions for different regions, and cost varies wildly; Marine & Lakes USA only costs $10.34, for example, while the UK/Holland version costs three times as much.

So, are you ready to make the leap from the hapless 90 percent of anglers into that top 10 percent? Then charge up your smartphone, load it with these apps, and get ready to exercise that casting arm—you'll need it to be in good shape, with all the screen-swiping ahead of you.