See more articles
Intracoastal Waterway: The final leg
Bella one-ups the crate, and Albemarle Sound proves as formidable an opponent as the previous day's storm.
Terry Blevins is traveling the Intracoastal Waterway with her husband Charlie and dog, Bella, on their 34-foot tugboat, Rainshadow.

June 28, 2013

Update on Bella
Bella seems to be doing fine after the dog attack. The battle of the dog crate? She won. While clamping the zippers shut worked once, the next time she met us at the door of the tug upon our return. When I looked at the crate, she had ripped a long vertical hole in the netting that covers the front. So I sewed it shut. I quadrupled the thread and made sure it was well secured.





The next time we went to dinner, however, Bella greeted us at the door again! When I looked at the crate, my mending job was wet, chewed and wide open. So we put the crate away and hoped for the best. Most of the time we have taken Bella with us. But if we didn't, she never caused any issues.

Stormy weather

I hate the Albemarle Sound. The waves this morning were forecasted at one to two feet, but were closer to three as we made our way up North. As we got hit from the chaotic waves, the boat leaned over a little too much for my comfort. Once again, we put on our life preservers, and we put everything in the sink that was sitting out.

For the first time the whole trip, Bella was shaking too. I think this was worse than the storm yesterday because the rocking and rolling lasted so much longer. Also, we had to be diligent on crab pot patrol as we tried to find a way out of the turbulence. Our tug has better stability when we travel at a faster speed.

Finally, we entered the creek up to Coinjock, where everything was calm again. Sarah came up to the helm and helped me navigate.

We had been reading about the Atlantic Yacht Basin in Great Bridge. Activecaptain reviews raved about the maintenance work. So we decided to head to that marina and get a haul out to have the repair work done on the rudder seal.



It was another long day. We had left Alligator River Marina by 7:45 a.m. and made it to Great Bridge by 3 p.m. It was above 90 degrees with no breeze as we pulled in. Once I knew we were hauling out, I had about an hour to pack up everything. When we docked, we tossed everything out as quickly as possible to be able to get the boat hauled out before they closed. Sarah took Bella for a walk. Then we saw Rainshadow get lifted out of the water.

The next day, Charlie and Kelsey, our oldest daughter, went back to the boat to leave the rudder seal kit and close the boat. They also worked on the white rubber streak on our hull from leaving Beaufort. They were successful in buffing it out — using a lot of elbow grease.

As a memento, Charlie created this track of our trip. The orange circles are all the places we stopped.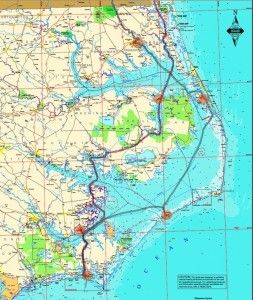 It was a good trip. We met wonderful people, experienced new places and learned a great deal about cruising! We also grew more attached to our tug. She got us through some pretty hairy experiences, with a ton of help from Charlie.



Our thanks to Terry for sharing her adventures with blog readers at boats.com. Cruising on a small tug is a lifestyle that many have told us they'd like to know more about. Next time Terry casts off the docklines, we hope to share more of her adventures with you. In the meantime, you can also keep an eye on her blog, Rainshadow Voyages. Thanks, Terry.