See more articles
Lowrance HDS Gen 2 Touchscreen: Custom Menus and More
At the Fort Lauderdale Boat Show, this Lowrance unit stood out from the crowd.
We're here at the Fort Lauderdale Boat Show inside the electronics tent, and one of our cool finds is this new Lowrance HDS Gen 2 Touchscreen unit. Check it out.

One of the things I really like is whatever you want to adjust, it's always just one or two clicks away. Another really nifty feature is how you set up the menus. Andrew, can you show us again how you custom-set these menus?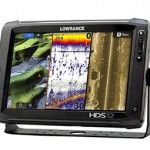 Andrew: Absolutely. If you want to create a custom screen, you go into here, choose one of the empty spaces, click customize, drag whatever windows you want to see: chart, radar, sonar. And then you can even choose the configuration, like this really neat three window vertical configuration. Hit save, and you're on your way.

Lenny: Very cool. Now of course we're just scratching the surface of what you can do with this unit. So make sure you check out our full review, coming up soon.

Watch the Lowrance HDS Gen 2 Touchscreen Short Take on YouTube.