Back to search results
Manic Monday: Broach for Bernard Stamm
A broach on this high-performance sailboat shows how slowly things can go pear-shaped.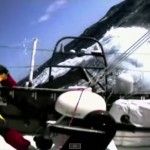 No matter how seasoned the sailor, boats can still surprise—especially a boat as powerful as Cheminée Poujoulat, a sixty footer built to sail fast around the world as part of the 2012 Vendée Globe Race. The boat goes from upright and sailing in heavy air to on its side. But Bernard Stamm doesn't panic; he simply climbs back into the cockpit and does what's needed to get the boat back upright again.

Don't try this at home, okay?