See more articles
Manic Mondays: America's Cup Action
Here's a short exciting recap of fast racing around San Francisco Bay.




Maybe you watched every race of the 2013 America's Cup. Maybe you didn't watch any. Either way, the event probably made an impact on you somehow the past few weeks, as it slithered into mainstream news: the Greatest Comeback Ever, as well as one of the longest regattas ever. For almost three weeks, 22 athletes pushed harder than anyone thought possible to win the Auld Mug—supported by family, teammates, shore teams, and those of us watching on the edge of our seats.

The coverage was the best ever, capturing for the first time both the stomach-clenching excitement and the analytical chess game of sailboat racing. Here's a one minute video that shows just a few of the highlights (though I'm surprised they didn't work in Emirates Team New Zealand's near capsize and self-rescue—the most amazing piece of seamanship I've ever seen). Next week, we'll return to more classic Manic Monday videos. But today we want to pay one last tribute to the AC72s. Because who knows if we'll ever see anything like this again?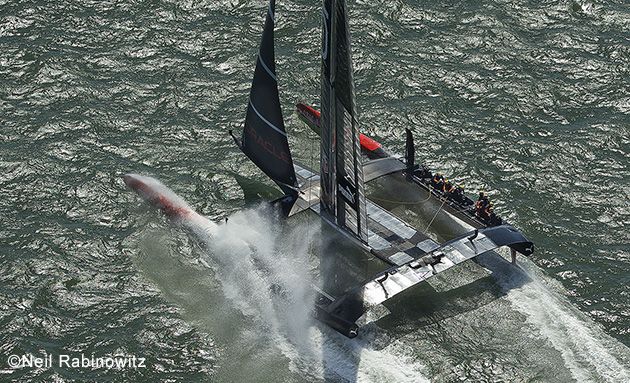 Photographer Neil Rabinowitz was on site and wrote several America's Cup posts for YachtWorld.

What's your favorite memory from the America's Cup?

Previous Manic Monday videos