Back to search results
Manic Mondays: A Lure's-Eye View of the World's Fastest Fish
Billfishing for Conservation: What can't you do with a GoPro camera and a bit of creativity?




It doesn't matter if you're a diehard fisherman or if you prefer to handle your fresh catch inside the grocery store, this week's Manic Monday find was made for each and every water lover to share around the water cooler.  Why?  Because how often do you get to watch the fastest fish in the world stalking a fishing lure... from under water?

In partnership with the Waterlust Project, the video was created by Scott Meyer & Peter Chaibongsai of The Billfish Foundation, whose goal is 'to bring science and sport fishing together to protect the fastest fish in the world.'  The Billfish Foundation (TBF) is the only non-profit organization dedicated solely to conserving and enhancing billfish populations around the world.

Did you know that the highest speed ever recorded for a fish was 68mph from an Indo-Pacific sailfish?!  How fast does your boat go?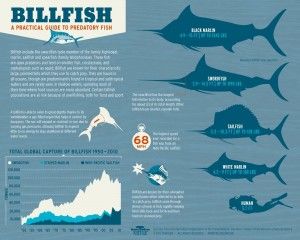 Now the next time you go fishing we dare you to leave your GoPro at home.  Just don't forget the gaffer's tape.

Check out The Billfish Foundation here
Infographic from PBS.org