See more articles
Manic Mondays: Police Boat To The Rescue? Not This Time.
Here's a high-speed turn that should have happened 30 feet sooner -- or better, not at all.
You borrow a friend's boat. You take it out for a spin and tie up at a dockside restaurant for a leisurely meal. Pretty soon a Washington D.C. police patrol boat comes along, does a hairpin turn at high speed in response to an emergency call, and chops an enormous gash in the port side of your borrowed boat. Then your borrowed boat sinks at the dock.

No one is hurt . Two of the key people in the video, the boat borrower and boat owner, appear to be very relaxed. The person who seems least relaxed is the police officer urging people to relax.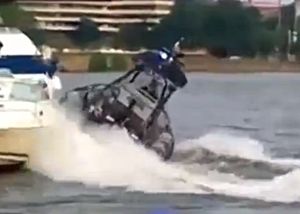 Because no one was hurt and the victims of the incident are reasonable people, the CNN reporter could make her story funny. But it could easily have turned out differently. If you want to see the damage that the propellers of powerful twin outboards can do, when mixed with a little adrenaline and poor boat-handling, have a look at the tattered fiberglass and gaping hole. Titanic on the Potomac.