See more articles
Monte Carlo Yachts 65: North American Debut
Zuzana Prochazka takes a quick look at this new 65 foot luxury yacht.
So we're aboard the Monte Carlo Yachts 65 which debuted here in Fort Lauderdale. Its bigger sister, the 76, came to the US in Miami last February. Now Federico here is from the Italian company that helped design it, but it's actually part of Groupe Beneteau. Federico, you want to tell us about the nice flow here, and the galley in the back?

Federico: Sure, thank you. We moved the galley aft in order to create more space for the living room. We can open the aft doors to have the galley aft just a few steps from the cockpit table.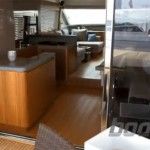 Zuzana: A unique feature of this Monte Carlo 65 is this bridgedeck, which brings you from the sides into the center between two sunbeds. And there's still plenty of room for anchoring work up forward.

Read our full review: Monte Carlo Yachts 65: Mini Megayacht for the Owner Operator

For more information, visit Monte Carlo Yachts.

Watch our Monte Carlo Yachts 65 North American Debut Short Take on YouTube.