Back to search results
OffCenterHarbor.com: Boat Video Takes Center Stage
A group of Maine boat lovers has created a site that combines an old-fashioned, unhurried pace and attitude with the latest in video techniques.
Once upon a time not so long ago, video lived inside a TV and the web was mostly words and paragraphs, broken up by a few pictures. Then video and the web grew up, fell in love, and moved in together.

Like all relationships, it took a few years to sort out how to bring out the best in each other, but gradually video has become standard on many websites—even on boat-oriented sites, where the wet and often unstable environment requires an extra commitment in time and technical expertise.

And now the marriage of web and video has spawned a new generation in boating-oriented sites, led by OffCenterHarbor.com. From Introducing Kids to Boats to Brilliant Designs: Small Powerboats  to Trailering Tips: No-Dunk Lights, there's something for every age, interest, and ability here. I've already found so many topics I want to learn more about that I will probably have to renew my current one year subscription before I can dig into it all.





A quick word about the site's name, for those who are not familiar with the town of Brooklin, Maine. Located at the northeast corner of Penobscot Bay off Eggamoggin Reach, Center Harbor is the focus of this boating epicenter, a gathering point for everyone to admire the shiny fleet hanging on moorings. The backdrop is a classic Maine island, topped with pointed firs and edged with rocky ledges. Best of all, boats in use stream down "the Reach," headed east toward more remote anchorages or west back toward civilization.

According to filmmaker Steve Stone, the name "Off Center" Harbor was first penned about forty years ago by boat designer Joel White. "It was an inside joke between Joel and several of the founders of OffCenterHarbor.com," he explains, "a name that would convey the feeling of a place where you didn't have to wear an ascot or walk down the dock with just the right saunter to be accepted."

OffCenterHarbor.com is all about boats, but as we're constantly realizing here at Boats.com, that's a pretty large topic. The five founders have focused on creating an inclusive community of people who love boats and being on the water; fortunately all of them have a wealth of experience in doing just that. I'm sure you'll recognize some of these names:



Maynard Bray is the author of ten books about classic boats, as well as the technical editor for WoodenBoat Magazine.


Photographer Benjamin Mendlowitz supplies photos, a well-trained eye for presentation, and is the creator of the popular Calendar of Wooden Boats.


Boatbuilder and Instructor Eric Blake is the "voice" that talks us through many of the great experiences we can have right from our own desks, sailing on the schooner Malabar II or teaching a kid the sense of command.


Writer Bill Mayher offers a grandfather's perspective, while conveying information in a low-key and comprehensible manner.


And filmmaker Steve Stone splices it all together into stories that—whatever the lesson or topic—take you on a journey.



"Boating can be intimidating, and it can quickly become a game of who has the biggest, shiniest and fastest boat in the harbor," Stone says. "We don't think like that. For us, size and speed are completely irrelevant. If you watch Maynard Bray scull his 7.5-foot pram, it's immediately apparent that boating is all about being in the moment, gracefulness, and enjoying the experience to the fullest.  In that respect, the way we think about boats is probably a bit Off Center."

The in-depth and easy to watch videos vary in length, but all are longer than the usual web video: the shortest I found was just under five minutes, and some stretch beyond ten. This is not your nephew's quick YouTube fix; it's a way to enjoy, slow down, savor, and experience the boating world, and probably learn something too. Best of all, the site is visually uncrowded, unhurried, and speckled with tiny gems of boating-related wisdom like this E.B. White quote:  "If a man is to be obsessed with something, I suppose a boat is as good as anything, perhaps a bit better than most."



Of course having great content and a great design doesn't matter if no one can find what they're looking for. But the navigation is very much "on center," and what could be a dizzying array of videos are grouped into categories that make specific topics easier to find.

It's also easy to stumble onto something you never expected. When I'm finished writing this, I'm going back to the site to finish watching Balance 101 for Boats: Free Your Feet. Master Yoga Instructor Charlotte Clews of Wild Open Heart "walks" us through how to loosen and strengthen our two most neglected appendages, in order to improve our balance for the unpredictable needs of boating.

In addition to new videos each week or so, blogs from guides who represent a wide range of experience appear below related videos and are also available on their own. "The Three Boats I Lust After (and Why)" was submitted by a variety of bloggers, including worldwide cruisers and authors Lin and Larry Pardey. Several bloggers have addressed the topic "Learning from Experience: My Biggest Disaster and What it Taught Me," offering a peek at (among other things) what schooner captains do when faced with a dragging anchor, a low bridge to leeward, and a willow tree on the softest, nearest river bank.

OffCenterHarbor.com has just celebrated its first anniversary, and they are currently offering a limited supply of lifetime memberships as well as an infinite number of annual subscriptions. In exchange for your email address, you can watch several videos for free.

Now that video and web are wedded together for as long as they both shall live, it's great to see them giving birth to such creativity. Here's the OCH highlight video to whet your appetite.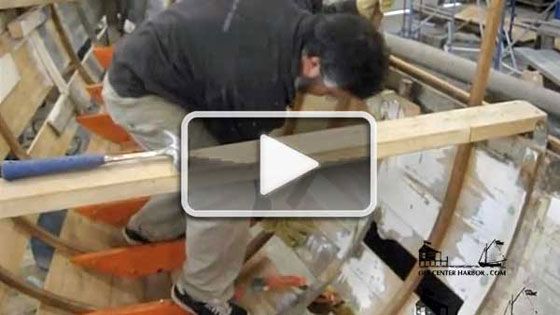 Editor's Note: For more about cruising in OffCenterHarbor's home waters, visit YachtWorldCharters.com's Penobscot Bay destination page.

Photographs: Benjamin Mendlowitz/OffCenterHarbor.com, Bridget Besaw