Back to search results
Picture This: Abner Kingman Wins Mirabaud Yacht Racing Image 2013
One For The History Books
Love a great sailing photo? Last month we checked in on the annual Mirabaud Yacht Racing Image 2013. And now the winner is in!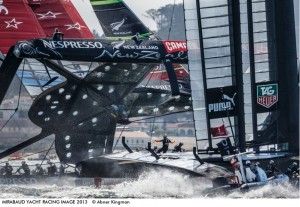 Congratulations to US photographer Abner Kingman. His image beat out submissions by 82 photographers from 18 countries.

About Kingman:
Aged 44 and the father of two children, Abner Kingman, has been awarded for his photograph of Emirates Team New Zealand and Oracle Team USA, taken during race 8 of the 34th America's Cup in San Francisco (USA). The shot captures the precise moment when Oracle Team USA took over the lead on Emirates Team New Zealand whilst ETNZ almost capsized; the turning point in the last America's Cup. «As Emirates tried to tack on top of Oracle, their wing articulation hydraulics failed and they couldn't trim properly», explains winner Abner Kingman. «I was shooting from the aft deck of the television catamaran when they started to capsize, it seemed to unfold in slow motion. Finally, their starboard hull came down with a splash. It took a moment for ETNZ to get sorted out and start sailing again, while Oracle went on to win the race, and then nine more of the next 11 races.