Back to search results
Red Arrows Wow Showgoers at Monaco
The Monaco Yacht Show provided all sorts of attractions at sea level and much more.
Alastair Walton, of Boats.com and YachtWorld.com, provides another report based on his rapid tour of the fall boat-show circuit. This time, when he's looking up, he's seeing more than masts:





The Monaco Yacht Show is undoubtedly the jewel in the crown of the Mediterranean boat show season - maybe even the world. Nowhere else can you find the same heady mixture of huge superyachts, stunning supermodels, international ship yards, professional yacht brokers, innovative designers, spectacular scenery and uber-wealthy boat buyers. Naturally, this addictive showcase attracts visitors from all over the world, so the show is alive with every language you can imagine.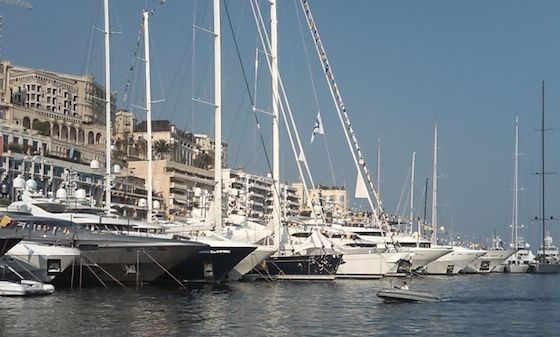 The UK's commitment to this multi-billion-pound industry is strong and wide-ranging.  A quick visit to the SuperYacht UK section in the Darse Sud section of the show proves just how influential UK companies are in this sector. Participants include Pendennis Shipyards, Bruntons Propellors, Lewmar, Southampton Yacht Services, Wilson Yacht Management, SuperYacht Business and lots more.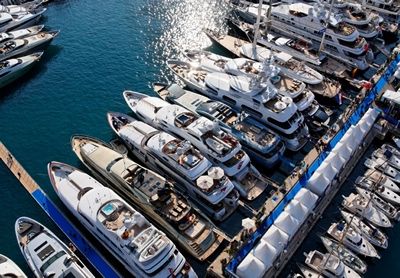 Just in case you didn't see any of that, a quick look skywards at 1430 on Thursday afternoon would have introduced you to one of the UK's very finest displays of excellence, the famous RAF display team The Red Arrows. Often swooping below the mastheads of some of the larger sailing yachts on display, these nine Hawk aircraft are flown by serving pilots, many of whom have seen combat experience in places like Iraq and Afghanistan. Today however, they turned their attention to wowing the boat show crowd with cross-overs, star bursts, love hearts and high-speed passes. They ended a breathtaking display by painting the sky red and white - the colours of the Monegasque flag - to the delight of all the superyacht captains who showed their appreciation with a mass sounding of ships horns! Only the Monaco F1 Grand Prix makes more noise.

The Monaco Yacht Show closes at 1830 on Saturday 26th September. (Thanks to Pierre Pettavino for the aerial photo of the show.)