Back to search results
Remembering Charlie Leighton: Lucky 13
The USSailing Executive Director from 2005-2010, Charlie Leighton made everyone feel like a close friend.
The first time I remember really talking with Charlie was on a tour of his private gym. My two Olympic teammates and I had been invited up to the sunny, open room that housed several machines I'd never seen before. "Try this one out," he said, throwing me yet another one of his infectious grins. "See how much of your body weight you can lift."

I stepped/sat onto the thing, grabbed the handles, and lifted.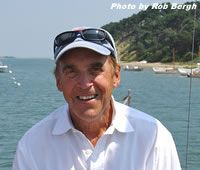 "13, wow! I've put most of the Sailing Team members on this, and so far that's a record. Great job!" He pumped my hand, and I walked away feeling like I'd really accomplished something. For an almost-retired Olympic athlete, it was nice to be reminded that I could still compete with the young upstarts.

So it would've been a memorable moment, even if he hadn't greeted me for the next few years as "13! How're you doing?"

Charlie went to the great regatta in the sky this past weekend, and he will leave behind a gaping hole in many lives. I didn't know him that well or spend that much time with him, but I was always impressed with his enthusiasm and his vision. Almost single-handedly he created the medalist fundraising program for Olympic sailing that will live on in his absence, because (in the words of former Olympic Sailing Committee Chairman Dean Brenner), he "taught us how to do it." And while he was raising money, getting to know athletes, and spreading goodwill, he brought many people together as members of the Olympic sailing family. He was uniquely able to bridge the typical gaps between donors and sailors (in age, income, and ability) with a warm smile, a firm handshake, and a goofy opener. ("Let me introduce you to Lucky 13.")





Charlie was always Charlie, no matter whether he was speaking before a board of directors, riding in a powerboat watching racing, or piloting his own plane up the coast of New England. Friendly, caring, personal, with just enough of a glint in his eye that it was all too easy to discount the wisdom of his words. He'll leave behind a large gap of warmth in many lives.

And I will really miss being "13."

For more on Charlie, including quotes about him from people around the sailing world, read USSailing's Sailor of the Week from September, 2010.