See more articles
Sabre 38: Functional Flow
Zuzana Prochazka shows off a few of the features of the Sabre 38 Salon Express, seen at the Fort Lauderdale Boat Show.
Now here's an interesting boat from Sabre Yachts, the 38 foot Salon Express. It can be open from the v-berth all the way to the settee in the cockpit.

The Sabre 38 Salon Express opens up in three ways. You can open up the forward cabin if there's just two of you or close it off. You never know when you'll want your privacy!

When you want to bring the outside in, you just open a window with the touch of a button.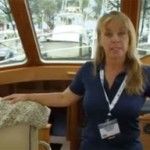 The cockpit is also convertible. You can have a very intimate seating situation, or you can open it up. Just fold up the table, push a button, and push the whole transom back out to open up the cockpit.

For more information, visit Sabre Yachts.