See more articles
Salvage Successes: Costa Concordia and Astrid
While no one wants to imagine ships sinking, it's reassuring to know they can be brought back from the deep when necessary.
Two impressive salvage operations have been in the news recently. And though the boats, budgets, and scenery are very different, the logistics are equally impressive.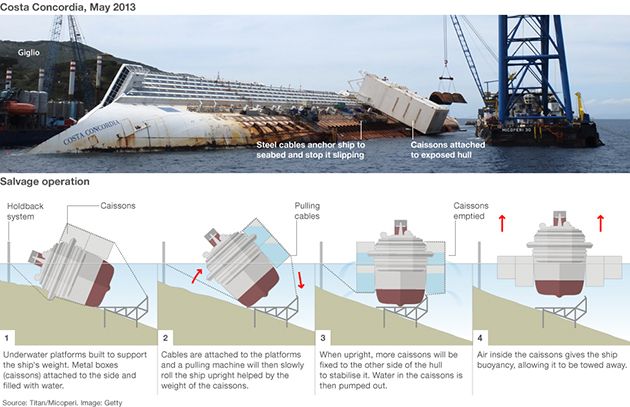 Costa Concordia

The 19 hour, 600 million Euro project to remove this 900 foot cruise ship from a delicate marine sanctuary in Tuscany added the word "parbuckling" to our vocabulary. The video cameras rolled 24/7, even when the work halted, and the footage captured the tension in the control room. Unmanned drones also took video before the operation began; you get a good sense of just how close to shore this disaster was by watching Video Aerial Drones Explore the Costa Concordia.

You can also watch the 19 hour operation as a 1 minute time lapse video.

The next phase will be adding sponsons and refloating the ship. For more details, visit the Parbuckling Project website, which has an excellent collection of multimedia, as well as diagrams and in-depth detail.





Astrid

A few weeks ago, a more traditional crane-and-straps approach to salvage was taken off the coast of Ireland, to rescue the wreck of the sail training ship Astrid. The ship had run on the rocks off the Cork coast with 30 people aboard, including 23 teenagers. All were rescued. Here's a video of the salvage operation:

Read more about Astrid and the salvage operation: Wreck of Astrid Salvaged in Kinsale.