See more articles
Seldén Reversible Winch Takes Overall DAME Award
A new push-button reversing winch by Seldén was recognized this week at the Marine Equipment Trade Show in Amsterdam for saving space and offering better security.
Jason White, Boats.com's new business development director, often reminds us that he's a former winch salesman, and we know he's never lost his interest in the technology. Latest proof is this report for Boats.com from the floor of the METS show in The Netherlands, written earlier this week. Thanks, Jason.


—John Burnham

Jason White writes: I stopped by the Seldén Mast booth on the opening day of METS (Marine Equipment Trade Show) in Amsterdam, and found some pretty happy Swedes. Sweden's Seldén Mast was crowned overall winner at the DAME Award presentation that morning for its Reversible Winch.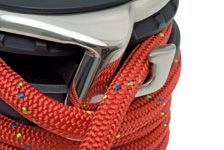 The DAME (Design Award METS) is the most prestigious design competition for new marine equipment and accessories in the world, and it celebrated its 20th anniversary this year. (Editor's Note: Here's the link to read about all the 2010 DAME winners.)

Seldén's hand-operated, self-tailing winch has a push-button handle design that saves space and offers the operator better security than when easing the line by hand. I interviewed Seldén's Mats-Uno Fredrickson, who said "We have been working on this project for four years, and testing for the last two. We felt that if we were ever going to win the DAME award, it would be with this product. The reversible winch represents some real out-of-the-box thinking no one has been able to master in a manual winch."

How does it work? Here's how Seldén describes it:

The winches are of self tailing type with two gears forward. You start winching clock wise on the fast gear, shift down to low gear by rotating the winch handle anti clock wise. So far, exactly as we are all used to.
The ingenious feature with the new Seldén winches is that you can let the rope out by reversing the winch drum. The purpose-made winch handle has a knob which is pushed down with your thumb to prepare the winch for reverse drive. The winch handle is rotated clock wise and the rope is eased out. The rope remains in the self tailing jaws all the time, which means it's a one hand operation to trim the sheet, the halyard or the windward guy.

On the company website, there is a bit more on the Seldén reversible winch.  The winches are available in four sizes, and product shipments will begin immediately.

I asked Mats-Uno why the Dame award was so coveted for Seldén: "The DAME award is the marine gear industry's most prestigious award, and offers instant recognition and awareness for the products that win. This award is also very timely for Seldén as we celebrate our 50th anniversary."

So it's been a good day for Seldén, I said.

"Ja, a very good day and I expect a very good night!" Mats-Uno said with a smile.

Seldén Mast is headquartered in Sweden, and its US operation is located in South Carolina. According to Scott Alexander, US Sales Manager, Seldén products, are available through normal marine channels.
—Jason White