See more articles
USS Constellation: Setting Sail into History
USS Constellation 150th Anniversary Celebration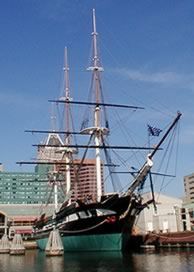 Baltimore, Maryland: The last all-sail warship built by the U.S. Navy and the only Civil War era vessel still afloat will travel (under tow by the Vane Brothers Company) from Baltimore's Inner Harbor to the U.S. Naval Academy in Annapolis the morning of Tuesday, October 26. Plans are underway for a Bon Voyage Celebration in Baltimore and a welcoming ceremony in Annapolis after the USS Constellation's voyage down the Chesapeake Bay.

She will remain pier side at the Naval Academy for one week, during the Academy's Homecoming celebration. A $50,000 donation from Northrop Grumman Corporation is supporting both the roundtrip voyage as well as free admission for the public to visit the USS Constellation from October 27 to October 31 while in Annapolis.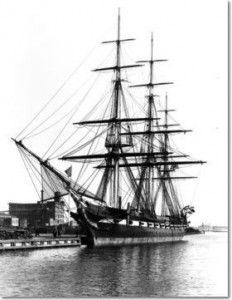 This monumental voyage will mark the first time the ship has traveled beyond the Key Bridge since her arrival in Baltimore in 1955, and her first return to the U.S. Naval Academy in more than 110 years. From 1871 to 1893 the USS Constellation served as a training vessel at the Academy, and she annually continues to educate midshipman as part of their plebe summer training.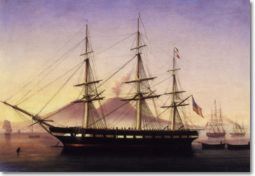 During her 100 years of active Naval service, the USS Constellation served as flagship of the African Squadron and caught three vessels believed to be engaged in illegal slavery trade. As a result, more than 700 persons were set free and repatriated on their native continent. She also searched for Confederate raiders in the Mediterranean during the Civil War, delivered famine relief to Ireland, served as relief flagship for the U.S. Atlantic Fleet for a brief time during World War II, and trained generations of sailors in Newport, Rhode Island, and Annapolis, Md.

For Chris Rowsom, Executive Director of the USS Constellation Museum, the Homecoming Voyage presents yet another opportunity to educate others about her storied past in America's maritime history.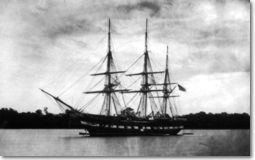 "Even though the USS Constellation no longer serves as an official Naval training vessel, every one who steps on her decks can't help but walk away with knowledge," said Rowsom. "Whether it's a better understanding of 19th century life on a ship, the recognition of how far medicine has advanced in 150 years, or the realization that math and science skills actually do translate into real world situations, the USS Constellation continues to teach more than 100,000 visitors per year."

The USS Constellation is scheduled to return to her permanent home at Pier 1, Inner Harbor during the afternoon of Monday, November 1.

Schedule of Events for the USS Constellation 150th Anniversary Celebration
Homecoming Voyage to and from the U.S. Naval Academy
Sponsored by Northrop Grumman Electronic Systems Sector

Tuesday, October 26, 2004

8:00 - 8:30 a.m.
USS Constellation Bon Voyage Celebration
Pier 1, Inner Harbor, Baltimore
This event will be free and open to the public

8:30 a.m.*
The USS Constellation will begin her historic voyage amidst firing cannons, and a fleet of accompanying boats including the Baltimore City Fire Department Fireboat

9:30 a.m.*
USS Constellation exchanges salutes with Fort McHenry

10:30 a.m.*
USS Constellation passes under the Key Bridge

2:30 p.m.*
USS Constellation passes under the Bay Bridge and by Sandy Point Park

4:00 p.m.

USS Constellation Arrival Ceremony at the U.S. Naval Academy in Annapolis
U.S. Naval Academy

* Boats may sail with the USS Constellation, but must remain outside the posted safety zone, 100 yards on either side and astern, 200 yards ahead.

Wednesday, October 27, 2004

10:00 a.m. - Noon
MEDIA TOUR
USS Constellation at the U.S. Naval Academy

Please contact Heather Woolford or Melissa Daley at 410-427-0123, x223/220 for more information or to RSVP.

Wednesday, October 27 - Sunday, October 31, 2004
10:00 a.m. - 4:00 p.m. on Wednesday, Thursday, Friday and Saturday
10:00 a.m. to 1:00 p.m. on Sunday

USS Constellation Open for Free to the Public

U.S. Naval Academy

The USS Constellation will offer a series of "hands-on" activities and demonstrations daily as well as self-guided audio tours. Come on board and see the Ship's Company, Constellation's official living history volunteers, hoist the colors, brace the yards, fire the guns and perform other hands-on activities throughout the day.

Monday, November 1, 2004
8:00 a.m.
USS Constellation departs the Naval Academy

9:30 a.m.*
USS Constellation passes under the Bay Bridge and by Sandy Point Park

2:30 p.m.*
USS Constellation passes under the Key Bridge

4:00 p.m.*
USS Constellation arrives at Pier 1
Inner Harbor, Baltimore

* Boats may sail with the USS Constellation, but must remain outside the posted safety zone, 100 yards on either side and astern, 200 yards ahead.

Parking Information
No cars permitted on the Naval Academy without a valid Department of Defense sticker. Public parking will be available at several locations throughout Annapolis, which are served by the Navy Blue Shuttle (actually a brown trolley) and indicated by round blue and white Annapolis Transit signs-posts with a picture of a passenger stepping onto a bus. Persons visiting the USS Constellation will enter via Gate 1 and walk about 15 minutes to the ship. Please wear comfortable shoes.

For more information about these events or a list of parking locations, please visit www.constellation.org or call 410-539-1797