See more articles
Targeting Smart Owners for SmartYachts
One way to plan your luxury yachting on the Med for six weeks, or eighteen.
Maybe you're in the next income bracket up and not worrying about school tuitions, as I am. If so, congratulations. You've sold your business or made a smart deal. Maybe a SmartYacht product should be your reward?

SmartYacht is a fractional-ownership company based in Lichtenstein, which lies between Switzerland and Austria, but its yachts are stationed in places such as Antibes, on the south coast of France. And whether you are seriously in the market for some luxury yachting on the Med, or simply curious how much it would cost you if you were, here's what your Euro can buy you:





Princess 50 Fly: This new, 30-knot, two-couple cruiser (3 cabins, but only two are full-size) was named Motoryacht of the Year in 2009 by Motor Boat and Yachting and Motor Boats Monthly. Available immediately in the Golfe Juan near Monoco and Cannes, the yacht can be yours for €788,000, but a 1/3rd ownership share (18 weeks) can be had for €135,000 and €69,000 per year. A 1/9th share (6 weeks) costs €45,000 plus €23,000 per year. This yacht is managed for you, but you will receive training to operate yourself.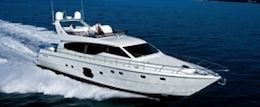 Ferretti 630: Also a new boat and capable of cruising at 30 knots plus, this three-cabin design has a flybridge as well plus a 360-degree mid-deck saloon. Like most SmartYachts, it's stationed in Antibes, France, and while you can have her to yourself for €2,436,000, a 1/3rd share is €360,000 plus €147,000 annually. The 1/9th share costs €120,000, plus €49,000 per year. A captain is aboard during your stays.



Serenity 68: Displaying a bit more traditional look and a long-range 10- to 12-knot passage mode, this new yacht built by Cheoy Lee Shipyards as three large cabins plus a bunk room and will be available late in 2009. It's also going to be based in Antibes and is available for €2,051,000. The 1/3rd share is €240,000 with an annual fee of €119,650. The 1/9th share is €80,000 with an annual fee just under €40,000. The yacht comes without captain, but training is provided.



Cheoy Lee 81: The fleet flagship (although much larger yachts are contemplated) is a 20-knot-plus craft with four cabins built in 2002. It is managed by a captain and deckhand and is available for €1770,000. Share prices are €215,000 for a 1/3rd portion, with an annual fee of €163,000, or €72,000 for a 1/9th portion and an annual fee of €54,000.

Whichever yacht you purchase, you can book your stays aboard online, and while in port, grocery shopping, cleaning and laundry are provided. Plus a Maserati or Bentley is placed at your disposal. And if you get bored with the south of France, the yachts may be on the move; next year, perhaps you'll be in Italy, Greece, or Spain...

It may not be quite the same as owning and naming the yacht yourself, but you can quickly join one of these impressive yachts at a fraction of the price and management challenge of full yacht ownership. While I am not offering an evaluation of the contract you'd be offered,  SmartYacht does promise a yacht management scheme that could well have you on the Med in short order, in fine styl, and at a reasonable price.