See more articles
Throwback Thursday: Ernest Hemingway's Boat
The legendary author's first love was his favorite escape
Ernest Hemingway had four wives but only one boat, Pilar.





Yesterday we shared Pro-Line's all-new Hemingway Edition boats.

I'll politely refrain from assuming what the author would have thought, and god knows I'd pay to be the fly on the wall if his grandchildren could ever have broken the news, but the announcement didn't make me want to buy a Pro-Line. I'm sure they're swell boats. Rather, it made me want to travel to Cuba and visit the real thing.

Hemingway paid $7,495 for his 38' fishing boat in April 1934. Named for his second wife, Pauline, small coincidence the fierce Spanish woman leader in his 1940 Spanish Civil War novel For Whom The Bell Tolls was given the name as his dear fishing boat.

Pilar is arguably one of the most famous fishing boats in American history. Her notable guests included Ava Gardner, Fidel Castro and John Dos Passos. Hemingway's first visit to Cuba onboard Pilar included Charles Cadwalader and Henry Fowler, the director and chief ichthyologist at the Philadelphia Academy of Natural History. The two scientists were out to determine if white, blue, black and striped marlin were different species, or just color variants of the same species, and their work reclassified the North Atlantic marlin variants (Source).

Hemingway's time onboard with captains Carlos Gutierrez and later Gregorio Fuentes likely inspired his most celebrated work, The Old Man and the Sea. But unlike the old Cuban methods, Hemingway employed a Thompson sub machine gun to keep sharks from 'apple-coring' fresh caught Tuna before they could be hauled onboard. And armed with the afore-mentioned machine gun and a box of grenades, Hemingway and Pilar were even commissioned by the US Government to patrol for U-Boats in the Caribbean during WWII.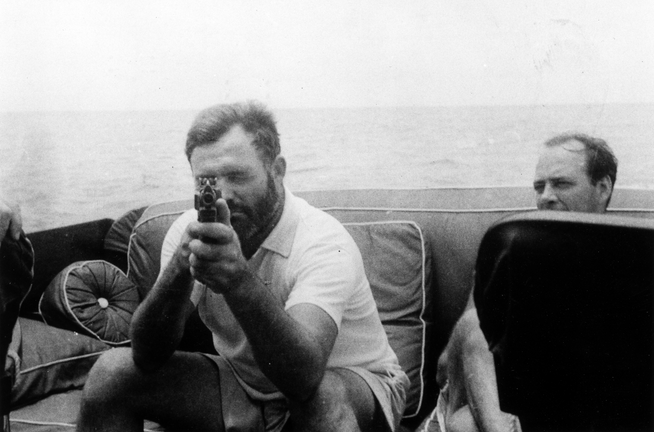 The Hemingways left Cuba for the last time in 1960 and his estate, art and manuscripts were seized by the Cuban government following the 1961 Bay of Pigs Invasion. After Hemingway killed himself in July, 1961, Pilar was bequeathed to his first mate, Gregorio Fuentes, who turned her over to the Cuban government. Pilar is currently on display at Finca Vigia, where Hemingway's estate has been transformed into the Museo Ernest Hemingway.



A decade ago the NY Times published this story about the Mystic Seaport and their hopes to restore Pilar.

The Day, a New London CT Newpaper, reported that "Dana Hewson, curator of the Mystic Seaport maritime museum in the northeastern U.S. state of Connecticut and an authority on preserving wooden vessels, inspected the yacht in 2002, and said that although the tropical climate and termites had caused some deterioration, 'she looks to be in pretty good shape.'"

The Rockefeller Foundation had donated $75,000 for the preservation of the documents, house and boat.

But most details about Pilar, preserving Hemingway's estate and all of his letters, books and manuscripts happened over ten years ago. Now that the gates to Cuba are slowly opening I'd love to know what's happening today.