See more articles
Towboat Upgrades for (mostly) Under $500
These upgrades will help transform your runabout or deck boat into a watersports platform.
Dedicated, high-end towsports boats are cool, but their price tags leave many buyers out in the cold. With a few select upgrades, you can make your average runabout or deck boat into a more watersports-worthy ride for a fraction of the price. Here are seven items under $500 that will improve your watersports experience…and two that, if you're willing to spend a little more, will really take things to the next level.





Pack On The Pounds
One of the primary goals of any wakeboarder is to get big air, a sizable boost off the wake that provides the necessary hang time to perform tricks or show off your style. And one of the best ways to get that boost is to pump up the volume of your takeoff ramp — the wake.

High-end wake boats accomplish this by weighting down the boat through the use of onboard water tanks. You can accomplish the same thing in your boat for a fraction of the cost with portable ballast bags, waterbed-like sacks in various sizes that quickly pack on the pounds. Try Straight Line's Sumo Sacs ($140 for a single, 750 lb. bag) or Fly High's Side Sacs ($190 for twin, 260-pound sacks). I suggest going with a combination of sizes rather than a single, massive bag. That way they don't overwhelm the cockpit and can also be moved around to create the best wake profile.



Hint? Try a couple sacks in the stern, but keep one forward in the bow. It will distribute the weight more evenly, resulting in a firmer, better wake shape.

Swap Your Prop
Mainstream boats are typically propped for all-around best performance. But if one of your main boating priorities is towsports duty, consider swapping out your prop for one that will provide better low-end acceleration. It will make it easier to get bigger riders up and on top of the water quickly, and should also lessen bowrise, keeping the driver in total control through each start.

A good example of a watersports-friendly prop is the Mercury High Five. They retail for upwards of $650, but can be found on the Internet, or through a negotiating dealer, for under $500. As the name implies, the High Five puts five blades in the water, rather than the typical three. The added blades significantly improves the boat's holeshot, while the stainless steel construction eliminates flex and stands up to abuse should you strike the bottom.

Consult a dealer or aftermarket manufacturer to find the best prop and blade pitch for your boat. You want to increase your boat's bottom-end pull, while still keeping the engine within its designated RPM range.

Lengthen Your Pole
The wake may function as a rider's ramp into the air, but the towrope often determines whether a rider maximizes its potential. Or rather, where that towrope attaches to the boat. Mount it low on the stern and a rider will be pulled back down toward the water starting the second they leave the wake. Mount it high in the air and riders will suddenly be soaring to new heights…literally.

That's how the extended pylon came about. Mainstream ski boats typically have shorter, existing pylons that allow for the mounting of an extended add-on pylon. But your average runabout or deck boat can also mount a raised tow point. Try the Universal Pylon from Big Air ($285). It mounts to a cockpit base, and draws strength from a support cable that runs to the bow.



Accessorize
Other items that can improve your boat's watersports street cred? An oversized rearview mirror is a virtual must. Cipa makes a large selection of mirrors under $65. They mount to the windshield frame, or a wakeboard tower, to provide the driver with a large, unobstructed view of the action. Those with existing wake towers may want to upgrade with some handy board racks (from $190-$450). They get boards, skis, even kneeboards up and off the cockpit floor, greatly reducing clutter. Other good suggestions are vinyl matting for your ski locker to protect your toys, or tractions pads to provide a steady grip on the swim platform.

Blow The Budget?
All of the above will improve your ride, but if you're willing to blow that budget by just a few hundred dollars more, that money can be put to very good use on a pair of items.

Towers
Like extended pylons, wakeboard towers are a great way to increase airtime. They allow the towrope to be anchored as much as 6' higher than normal, eliminating the downward pull of a transom-mounted towrope. Towers, however, hold an advantage over pylons for several reasons. One, they're just more solid. You won't need to run a reinforcement cable forward to the bow that passengers will have to be wary of, and the rider will notice the more solid pull. Towers also provide locations to mount speakers, and board racks to keep the cockpit uncluttered. Monster Tower makes a series of universal-fit towers, starting at only $799, which feature quality construction and plenty of style. Installation can be done my virtually anyone who can handle basic hand tools.

Speed Control
The other big-ticket item is speed control. Any serious skier or rider knows the value of a steady hand on the throttle. Unfortunately, drivers with the necessary skills are few and far between. Speed control units, like the Perfect Pass Cruise start as low as $675, and eliminate the human factor. Programming is as simple as inputting your desired speed and pushing a button. As the driver accelerates past the set point, the control takes over and maintains that speed, even throughout turns. Eliminating the hassle of trying to hold a steady speed also frees the driver to keep his focus where it's needed most…on the water.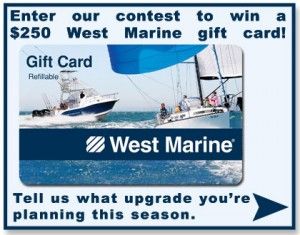 Editor's Note: This article is part of our affordable upgrades series. Tell us your upgrade story for this season and you'll be entered to win a $250 West Marine Gift Card.

Other upgrade stories:
Outboard Expert: $500 Upgrades
Electronics Upgrades for Under $1000
Six great upgrades anyone can afford
Low cost upgrades for go fast boats
Playing the engine upgrade game