Back to search results
10 Award-Winning Boat Products
The envelopes have been opened, and we're seeing gear that's small, functional, and reasonably priced.
The best aftermarket products of the year were named today at a reception during MAATS in Orlando, Florida (MAATS stands for Marine Aftermarket Accessories Trade Show), and I received a press release describing the winners. It's nice to see some great work appearing from manufacturers in a gloomy economic year; congratulations to all the winners. I've printed most of the release below, plus photos of a few of the products that looked especially interesting to me.





Here's what the press release said about the contest,  the winners, and the judges:

"Organized by the National Marine Manufacturers Association and judged by a panel from the Boating Writers' International, the awards recognize products that best meet the following criteria:
•    Innovative distinction from other products currently being manufactured
•    Benefit to the marine industry and/or consumer
•    Practicality and cost-effectiveness
•    Availability to the consumer within 60 days of the show's conclusion
Category: Electrical Systems & Equipment
Winner: Rule Charge N' Flow Portable Pump Kit by ITT, an extremely versatile small pump for washdowns, emergency uses and diesel fuel transfers. Judge Robert Buller noted, "With three sources of power and a price point of $120, this is a neat, compact, and versatile pump which will have a number of uses on and off the boat."

Category: Aftermarket Electronics
Winner: Navionics Mobile 2.0 by Navionics, chart plotter software for iPhone that brings a wealth of information to the palm of your hand at a price starting as low as five dollars. Judge David Seidman said, "It's the coolest app boaters will find on iTunes."




Category: Boat Care, Coatings, Chemicals & Maintenance Tools
Winner: Dual Action Polisher by Shurhold, a random orbital polisher that gets a professional finish every time without damage or swirling and keeps your boat looking good for a fraction of the price. Judge Alan Wendt said, "It puts the results of a professional detailer in the hands of a do-it-yourself-er."
Honorable Mention: Spider Away by Starbrite, a product that keeps spiders at bay.

Category: Deck Equipment
Winner: Smarte Jack by Smarte Jack Inc., a product that makes deploying and retrieving a boat lift a one-person operation. Judge Ben Ellison stated, "A well engineered and thought out design makes a cumbersome job easy."

Category: Interior Parts & Equipment
Winner: PulseCode Lock by MasterLock Company, an access management technology designed to retrofit all Euro Profile cylinder lock applications that uses an encrypted code and requires no wiring. Judge Frank Lanier said, "It's an excellent tool to provide selective access and security to any vessel, home or business."
Honorable Mention: Supersub Smart 650 by Whale Water Systems, a low profile automatic bilge pump.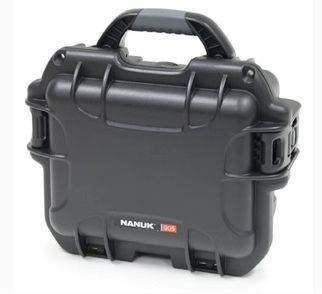 Category: Personal Gear & Soft Goods
Winner: Nanuk by Plasticase, Inc., a hard shell, waterproof case with a number of design features to protect delicate equipment in the harshest of environments. "While it looks similar to other cases, the superior latch and ergonomic shoulder strap means this is not just another pretty case," said judge Alan Jones.

Category: Safety Products
Winner: FastFind 210 Personal Locator Beacon by McMurdo, a PLB is the size of a cell phone that has a 50 channel GPS and an integrated strobe. "At $299, McMurdo puts a high performance PLB within the budget of even the casual boater," said judge Ben Ellison.



Honorable Mention: AquaFlare by AquaFlare, an automatically deployed signaling device for skiers, wakeboarders and kids in the water.

Category: Trailers, Trailer Parts and Accessories
Winner: Safety 800 Trailer Tongue Weight Jack by Unified Marine, Inc., a jack that takes the guesswork out of determining tongue weight to maximize stable trailering.  "This product ensures safe travel without using your bathroom scale," added judge David Seidman.

Category: Propulsion Parts & Propellers
Winner: P3 Palm Pump Fuel Primer by BluSkies International, an ergonomic and imaginative solution to replace the traditional rubber squeeze bulb. Judge Alan Wendt said, "It's the first fuel primer that will satisfy the 2011 EPA mandate for low permeation."
Honorable Mention: Cruise 4.0 R by Torqeedo Inc., the electric equivalent of a 9.9 HP outboard.

Category: Environmental Award
Winner: Kill the Spill Boat Wash by Enviromonde Network, a product that dissolves oil and stains quickly by breaking down hydrocarbons. This product has a huge potential to actually treat the problem without just sweeping it under the hull.


This year's Innovation Awards were judged by a seven-judge panel that includes: Panel Chairwoman Zuzana Prochazka, technical editor for Latitudes & Attitudes magazine, contributing editor to Mad Mariner and Circumnavigator magazine; Alan Jones, executive editor of Boating World magazine; Alan Wendt, editor, Marine CEO magazine; David Seidman, editor at large, Boating magazine; Robert Buller, equipment editor Pacific Yachting magazine; Frank Lanier, surveyor and contributing editor to Southern Boating, Practical Sailor and Australian Yachting magazines; and Ben Ellison, senior electronics editor for Bonnier Marine Group and editor of Panbo Marine Electronics blog."





Thanks to my fellow members of BWI for their volunteer work on this. The 14 products listed here as winners and honorable mention give me plenty of new territory to explore. Among others, I'd like to learn more about the Kill the Spill Boat Wash product.