See more articles
Almost Like Being There
The Official Book of the America's Cup Jubilee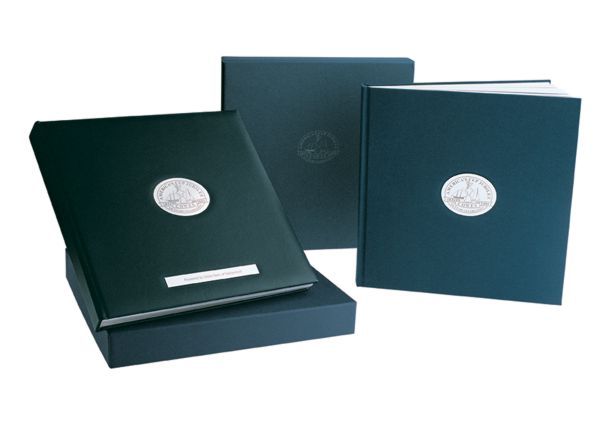 Last August the Isle of Wight was witness to a sailing spectacular that will never be equalled or seen again - the America's Cup Jubilee, celebrating the 150th anniversary of the race betwen the yacht America and the best racing yachts of Britain.

From the thundering JClass boats, to modern IACC yachts, there was a jaw-dropping assemblage of yachts and famous sailors.

I was unable to get to England last summer. Having just moved my family from San Francisco to the East Coast, leaving my wife to fend with the three kids and a house full of packing boxes would have been a brave but foolish act. I've gazed wistfully at pictures of the Jubilee for the past few months, so when I got a call from the publisher of the "official" America's Cup Jubilee book, I was intruiged.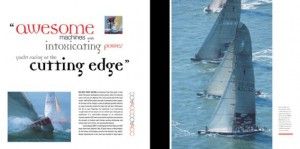 When offered the chance to read the book, I of course said "sure, send me a review copy", hoping for yet another free addition to my library. When informed that the book sells for £225 ($329 US) and that I could only keep it for 2 weeks, I still took them up on it. Why not, what did I have to lose?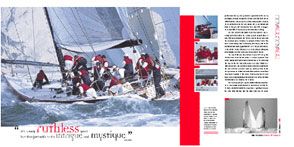 Well, I have $329 to lose, because I really don't want to send this book back. It's worth every dime; it's an astounding book. The quality of the paper, the photos, the rockstar journalists, the depth of information -- well, it's almost like being there. Almost. Having foregone my trip to Cowes in the interests of family harmony, I can easily justify spending the money on this copy (my wife will never know and I get to deduct it as a business expense).

Only 3000 copies are being printed. The Official Book of the America's Cup Jubilee has a metal plate on the cover engraved with the official Jubilee logo, a slip cover, foldout maps and photos, and is the only publication officially sanctioned by the Royal Yacht Squadron and the America's Cup Jubilee Committee. They even got HRH Prince Philip to write the introduction.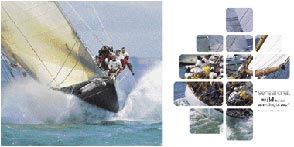 This is the quintessential sailor's coffee table book. And sure, as is the case of all reviews of coffee table books, I'm obligated to say that it's lavishly illustrated and luxiouriously finished. And it really is. I wouldn't even have a cup of coffee near me when I read it for fear of spilling and ruining the book.

More than just a picture book of the Jubilee and all the racing and social galas, the book also has extensive historical information on the first America's Cup and many subsequent America's Cup races. Complete specs and photos of every participating boat in the Jubilee is also included.

If you were going to make it to Cowes last summer and couldn't, owning a copy of this will get you a bit closer to what you missed.

The Official Book can be ordered from
Notre Voie Ltd., 5 Ivory Square, Plantation Wharf, London, SW11 3UE, UK.

Please call for information on corporate sales, customization options or multiple orders
Tel: +44 (0) 20 7978 6224

Fax: +44 (0) 20 7924 5333
Email:sales@acjubileebook.com
Web: www.acjubileebook.com