See more articles
Ameracat 31: Power Catamaran with a Punch
Ameracat makes it possible to save a bundle on a new boat, while still saving your back with the smooth cat ride.
Pop Quiz: Which costs more, a modern offshore fishing boat in the 30 to 35 foot range, or a condo in Manhattan? Answer: Neither. Crunch the numbers and you'll discover that they cost about the same, averaging around $1,000 per square foot. And that shockingly high cost is the biggest problem with most of today's boats. Unless you're a two-percenter you'll be shopping smaller, shopping used, or shopping for an unusual find—like the Ameracat 31.





This is a power catamaran built for those of us who want the most LOA for the buck, while placing utility at the top of the priority list. That describes me to a tee, and when I first saw an Ameracat sitting at the end of the dock it was love at first sight. The interior has a simple, easy-to-clean spackle finish; the cockpit is free of junk like transom seats (Shut up and hold on, you can sit down when the fishboxes are plugged); and the console cabin is little more than a cave with room for a Porta-Pottie. Simple, for sure, but completely functional as well.

The boat's utilitarian attitude carries over to its construction. This is essentially a gigantic two-hulled rolled-edge skiff, one that can take up to 600 horses on the transom. That's not to say the boat is built poorly, because it isn't. Ameracat doesn't skimp on strength; the hull is laminated with bi- and tri-axial fabrics, the deck is cored with 1.5" thick Airex high-density foam panels, and the sponsons are pumped full of closed-cell foam. That makes for a single structural component, and when we fired up the twin ETEC 300s and raced through a very busy Biscayne Bay at 50-plus mph, the hull crunched over three-foot boat wakes like a fleet-footed slab of granite.

Just bear in mind that "high tech" and "complex" are not what this boat has to offer. Check out the standard features list. You'll see that it basically consists of a hull and deck with a console and leaning post bolted on, rod and cup holders, a seven foot fishbox in the foredeck, a 50-gallon transom livewell, and enough hardware to tie the boat down. Seriously: what more does a blood-and-guts offshore angler need?

Like I said before, I love it. And you will too, if you're interested strictly in an awesome power catamaran ride, stout construction, no muss/no fuss maintenance, and getting the most boat for your buck.



So, just exactly how inexpensive is the Ameracat 31, anyway? $72,500 will get you the base boat. Pony up another $40,000 or so for engines, and the ready-to-fish rig barely breaks $100K. Think about that a sec. A World Cat 320 CC has a much finer fit and finish and far more cushy accoutrements, but it also costs—literally—more than twice as much. Even Twin Vee's 32 Ocean Cat, another utility-minded power catamaran, costs about $50,000 more.

You say you like the price and you like the simplicity, but you still want a boat with good looks? Beauty is in the eye of the beholder. I say the Ameracat looks best in its raw form... but if you want to add some trimmings, that's not a problem. This is a relatively small builder, and as a result, they'll take the time to build a boat to a buyer's personal specs. Seating, hull coloration, T-tops, and the like can all be optioned-out as you choose. Naturally, the more you add the more the price will climb.

However you feel about the eye-appeal of this boat, one thing is indisputable: its performance is stellar. Not only does it fly across wave tops without wincing, it does so quickly and efficiently. With the twin ETECs we hit a top-end of 50.7-mph, and cruised at 38-mph while turning 4500 rpm. At cruise we were getting close to a mile and a half per gallon. And even at wide-open throttle, economy never dropped below one mpg. That means real-world range is over 350 miles, so no matter where the fish are hiding, you'll be able to reach 'em.

What about the usual power catamaran down-sides, like sneezing, leaning out in the turns, and a snap-roll? At least in the conditions we encountered on test day, sneezing didn't occur. In turns the boat doesn't bank out but it doesn't bank in, either, so it will take some getting used to for monohull fans. Snap-rolling isn't a problem at all, probably because this boat's so beamy (9'10" wide); usually this issue seems confined to boats with a lower beam-to-length ratio.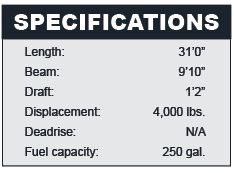 In a market chock-full of high-styled, over-outfitted, over-priced boats, the Americat 31 comes across as a breath of fresh air. We liked it so much, it makes our list of the Top 10 Fishboats of 2012. It's simple, honest, relatively inexpensive, and straightforward. And whether or not you believe in love at first sight, there's a chance this boat will make a powercat lover out of you. Just don't plan on using it to impress the neighbors, when you dock it near your condo in Manhattan.

For more information, visit Ameracat.

-Lenny Rudow