Boarding Riviera 43 from its transom platform, you instantly know it's Australian. The fiberglass swim step feels and sounds like a cement sidewalk. In the finest Aussie tradition, Riviera blends modern conservative style, common sense functionality, quality and tank-like construction. Creamy smooth fiberglass gelcoat and molded-in finishes barely hint at the Riviera 43's rock solid one-piece construction. Every detail of this low-maintenance convertible is purposefully designed, rugged but not clunky, and nothing feels cheap. Every hatch, panel and piece of joinery is solid, seamless and smooth — there are simply no unfinished sharp edges anywhere. Riviera has, unquestionably, mastered the art of making fiberglass tasteful and expensive looking.

The term convertible suggests compromises, but the 43 integrates the best features of a sportfisher, cruiser and motoryacht with more grace and balance than most. To fishermen, the cockpit and tournament flybridge is instantly recognizable as the real thing. Cruisers and family will appreciate the motoryacht feel of the spacious, light, and beautifully appointed saloon, galley, cabins and heads. Though boat builders, Riviera included, seem to be streamlining galleys and relegating hanging locker space to irregularly shaped vertical mail slots, the 43 partially offsets this trend with an abundance of enormous stowage compartments. If Riviera was trying to please the skipper and the rest of the family, too, it definitely hit its mark.

On Tour



Entering the saloon through a hefty sliding door, you look all the way through the boat into the master stateroom in the bow, giving the impression that the boat is closer to 50 feet than 43. The saloon feels nearly as wide as the 15-foot-5-inch beam, an amazing feat, considering the wide walk-around side decks. Light Australian Berber carpets and two large, glove-soft, L-shaped leather sofas invite you to take off your shoes and relax. Gloss finished teak joinery is nicely set off by equal areas of light fiberglass finished surfaces, in refreshing contrast to traditional depressingly dark, cave-like all-wood interiors. A teak saloon table located forward and starboard easily seats four, providing an unobstructed 360-degree view.

Forward, and one step down on the clever portside mezzanine is the one-piece galley, molded-in Granicote sink and counter surface, flush Ceran top two-burner electric cooktop, microwave and two-door Nova-Cool refrigerator. Unlike galley down arrangements, the airy galley is only a step away from the table, making serving easy and safe, without isolating the cook from the guests.



Both staterooms and en suite heads are one step down, forward of the galley, with an island queen-size berth located in the bow stateroom. The 43's bow stateroom is comfortably cozy but not claustrophobic. Aft of the master stateroom, on the port side, is a large head with shower. A pleasant surprise is the cruise ship style guest stateroom located starboard, complete with double twin beds that can be moved together, a small port light and generously sized head with shower. Attractive molded-in Granicote counters, clean cabinets and tiled floors all flow together, showcasing modular construction that molds the entire accommodation plan from the galley forward into one solid piece. Five substantial overhead hatches, with shades, bring in plenty of light and air.



Back in the cockpit, you enter the well-lit engine room by swinging aside a sink module on the back of the cabin, exposing a generous opening between the engines. Engine room access is impressive for this style boat, with near standing headroom and mirror image inboard engine service points on the relatively compact 430-horsepower Cummins C-series engines. Neatly secured and tied wiring passes through molded-in overhead runs and all fuel fittings and dual manifold Racor filters are easy to reach on the aft engine room bulkhead. All hull surfaces are flow coated, with a smooth, white resinlike material. Seacocks, strainers, and plumbing are all first class. Mufflers and exhaust plumbing are very neatly integrated into the outboard hull sides. The sound-shielded 12.5 Onan genset is exceptionally quiet, although mounting it against the forward bulkhead severely limits access to that side.

All tankage is heavy fiberglass, with water tanks (143 gallons) outboard in the engine room and fuel (581 gallons) behind the engine room. With the optional 247-gallon fuel tank, a very respectable cruising range of almost 750 nautical miles would be possible at 20 knots, allowing a 10 percent reserve.

Solid at Sea

Rivera's distinctive Australian pedigree and personality goes on display once the 43 is away from the dock. Though it's a muscular 35,000 pounds, the boats responds to a light touch, rewarding every command with well-synchronized, athletic moves, rising onto plane almost instantly with very little assistance from the small trim tabs. Cornering is crisp and assured, with no pounding and just the right amount of banking, even in beam seas.

Controls and gauges fall naturally to hand, with plenty of extra space in the instrument panel and overhead console for electronics. Morse Hynautic controls will be upgraded to Morse full electronic controls with built-in mechanical redundancy in future production. Close in maneuvering is, as they say down under, "No worry, mate," aided in large part by excellent visibility and helm placement. Muted engine noise and exhaust rumbles are noticeable but not objectionable. The biggest surprise of the day was the 43's glassy smoothness and complete lack of propeller vibration at any speed.

Both the flybridge and cockpit are well equipped, well arranged and enormous, perfect for entertaining and fishing. Cockpit controls are standard, and, as expected from one of the most award-winning fishing boats in Australia, even moderately aggressive backing down didn't threaten to bury the transom step or flood the cockpit. Line handling and mooring weren't forgotten, as one look at the gorgeous recessed chromed transom cleats, fairleads, flush fender cleats, mooring cleats and thoughtfully sized rails will attest.

Regardless of your boating expectations, you feel right at home from the moment you step aboard the 43. Maybe it's the no-nonsense engineering and quality or the stylish, user-friendly layout that offers something for everyone. By any measure, the Riviera 43 is an exceptional value.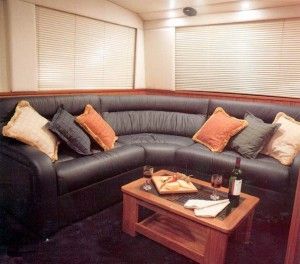 The luxurious sofa in the aft section of the salon can comfortably accommodate six people.

Boat Specifications

| | |
| --- | --- |
| Length | 43' 7" |
| Beam | 15' 5" |
| Draft | 4' 3" |
| Weight | 35,000 pounds |
| Fuel | 581 gallons, + 247 (optional) |
| Water | 147 gallons |
| Available engines | Caterpillar, Cummins, Volvo, MAN, 420 - 660 Horsepower |
| Generator | Onan 12.5 KW |
| Base Price | $452,040 w/ Cummins C-series 430 H.P. |