Back to search results
Bavaria Cruiser 45: Model Behavior
An award-winning model and a freshly re-launched effort give Bavaria a boost.
The Bavaria Cruiser 45 shows what you get when you cross BWM Designworks with Bruce Farr Yacht Design. In fact, this combination has created a whole line of Bavaria sailboats called the Cruiser Series, which was introduced to the US in 2011. The range includes six models from 32 to 55 feet including the 50 introduced at Dusseldorf last year, but this 45 footer will be right in the sweet spot for many cruisers.





The Bavaria Cruiser 45 has a nearly plumb bow and carries its beam well aft. This broad design lends itself well to a feature that is a rarity in production builds – the boat has not only twin helms, but also twin rudders. When a wide boat heels, it needs a deep rudder to keep contact with the water. But with two, the rudders can be shorter and still keep the boat tracking in a variety of conditions including lumpy seas and close wind angles. The 45 should run as if she is on rails, which, in a way, she is.

Structure

Bavarias are built in a large, state-of-the-art facility in southern Germany that can produce up to 1,000 hulls a year. The construction is a hand-layup of solid glass and chopped strand mat with an inner grid frame for stiffness. The hull and deck are cored with Airex foam and the bolt-on keel is cast iron.

It's a fairly heavy construction designed to do well in cruddy conditions and stiff breezes. The fractional Selden rig with double aft-swept spreaders carries a 110 percent jib and a full-batten mainsail or an optional furling main. The control lines are led aft and the mainsheet has a bridle so there's an end on either side of the companionway. In 20 knots at 40 degrees apparent wind angle the Cruiser 45 will do 7.5 to eight knots, and up over nine knots on a beam reach. Under power the boat will cruise between seven and eight knots, although given the displacement of nearly 30,000 pounds, it would be advisable to consider upgrading to the 75 hp engine over the standard 55 hp. Between the Saildrive and the optional bow thruster, the Cruiser 45 should be easy to maneuver even in tight docking situations.

Cockpit Layout

The cockpit on the Cruiser 45 is well laid out with a fixed table in the center that will serve well for bracing and has interior stowage. There's plenty of room throughout the cockpit to stow items in two shallow lockers, and a large lazarette deep enough to carry sails and a rolled up dinghy. A nearly stern-wide transom section raises and lowers electrically and when down, creates a nice extended swim platform with a ladder for easy water access.



Down Below

The standard layout on the 45 has three cabins and two heads with the large master stateroom in the bow featuring a huge berth and plenty of stowage space. The master head is split and has the shower compartment to port and a commode and sink to starboard. This layout will probably be the choice of most private owners. For chartering the forward cabin can be divided into two staterooms, but the head remains the same as does the rest of the interior layout all the way aft.

The saloon has a U-shaped dinette to starboard with a double seat amidships that backs up against the galley to port. A small, aft-facing nav station abuts the dinette that also forms its seat. A funky seatback arrangement lets you configure a backrest by repositioning a cushion, which is an interesting feature although I'd guess one that will be seldom used.



The galley has acres of countertop space, a two-burner stove with oven and a microwave. European boats have tended to feature mostly straight galleys although in recent years, some builders have opted for more U-shaped arrangements that are familiar to US boaters. On port tack, it will be difficult for the cook to brace himself against anything but that midships seat. However, a great feature is the railing that runs the length of the galley counter that makes a useful fiddle to keep things from flying and provides an excellent handhold.

The two aft cabins each have an en suite head and shower compartment. The companionway that separates them provides good access to the engine from the front, and the numerous ports and hatches throughout the main living area provide lots of light and good ventilation.

Bavaria's nod to personalization includes multiple choices of interior finishes. The standard cabinetry color is mahogany, but there are oak and walnut options. There is also a choice of three cabin sole colors and 11 styles of upholstery, so each owner can create a signature look.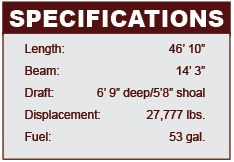 Company Update

Bavaria Yachts was making good inroads to the US production sailboat market in the early 2000s, but when the recession took hold, they all but vanished from this side of the Atlantic, forsaking new model introductions and whatever they had of a dealer network. Recently they reorganized and re-launched their efforts by bringing several models in the Cruiser series to the 2011 Annapolis boat show. Horizon Yachts in Maryland now represents the German company in the US as both a charter company and a dealer. The Bavaria Cruiser series includes 32, 36, 40, 45, 50 and 55 footers and if you want to try before you buy, you can probably charter your model of choice on the home waters of the Chesapeake.

Close on the heels of the Cruiser introduction, the new Bavaria Vision 46 is scheduled to reach these shores in the summer of 2012. I've only seen sketchy details but believe that the Vision will become a whole line of deck salon models incorporating extensive sailor feedback and edgy new styling.

Other Boats to Consider

Boats similar to the Bavaria Cruiser 45 (MSRP $276,735) include the new Beneteau Oceanis 45 that was introduced at the 2012 Miami boat show. The Beneteau's features an award-winning transom design, can be configured with up to four cabins and two heads, and has pod-like control with a Saildrive and an integrated bow thruster. Another production model that would fill the bill is the Catalina 445, the first in the Catalina 5 Series, a line based on a new design and build concept. The 445 has a sugar scoop rather than an opening transom, but also features twin helms.

For more information, visit Bavaria Yachts.

- Zuzana Prochazka