See more articles
Bayliner 170 OB: Bowrider with an Outboard
Nothing says adaptable like a trusted hull that runs well in two different engine configurations -- and the new outboard rig is extra fuel-efficient.
Times change and so do marine powerplants. This year Bayliner is revisiting an age-old question with their new 170 OB: Which is better, a stern-drive or an outboard? A decade ago when four-stroke outboards began making leaps and bounds in reliability and fuel efficiency, some companies tried building boats that had traditionally used stern-drives—such as bowriders—in outboard configurations. The lighter weight, awesome reliability, and reduced footprint of an outboard made them attractive, but unfortunately, these models never really caught on. The reason? Outboard configurations cost significantly more than stern-drives.





New EPA regulations requiring catalytic converters on stern-drives have changed that, however, and today the 170 OB is about a thousand bucks less expensive than a comparable model with a stern-drive. But is an outboard-powered bowrider really better? And more importantly, is the 170 OB the right boat for you and your family?

Good Vibrations
The first advantage of the 170 OB became crystal clear as soon as I turned the key and started the powerplant. Not only was the sound of this running outboard barely perceptible, it was also vibration-free. Shifting into gear and pulling away from the dock was similarly pleasurable; gone was the loud, harsh "clunk" of a stern-drive's transmission. As I advanced the throttle and brought the boat onto plane, I again took note of greatly reduced sound and vibration levels throughout the rpm range. And that range was a bit wider than usual since this rig turned up to 6310 rpm (5000 to 6000 is the manufacturer's recommended maximum). That produced a top-end speed of 42 mph, while burning 10.5 gph.

At a 4500-rpm cruising speed we ran at 29.2 mph while burning 4.7 gph—making for a wallet-pleasing 6.2 mpg. Pull the throttle back a click, cruise at 24.5 mph, and you can run for 6.5 miles on a single gallon of gas. That's notably better than you'll do with the stern-drive version, netting a hair over a mile more per gallon of fuel burned.

The 170 tracked surprisingly well at slow speed, and even more surprisingly kept jolts and bumps to a minimum when we went wave-hopping. The 19-degree transom deadrise does a good job of busting through the chop, and even though this boat is about 200 pounds lighter than the stern-drive version, there doesn't seem to be any loss of seakeeping ability.

Swap Meet
A small sacrifice can be seen in a loss of acreage, when it comes to the swim platform on the 170 OB. One of the big advantages of a stern-drive configuration is the ability to integrate a huge swim platform over the outdrive. With the outboard set-up, however, you're limited to relatively small platforms either side of the engine. What the 170 OB loses in exterior usable space, however, it makes up for with interior usable space. Where a stern-drive boat would have a motorbox, this boat has full-beam aft seating with stowage underneath, and a lift-out cushion which creates a walkway to the port-side swim platform. And there's a lot more to that beam than you'd expect from a 17'6" long, 6'11" wide footprint. Bayliner made the gunwales exceptionally narrow in the 170 OB, increasing the usable interior beam by several inches. The beam is also carried farther forward than usual—it maintains 6'11" all the way up to the windshield—so that cockpit width is larger than expected whether you're sitting on the transom bench seat or in the captain's helm chair.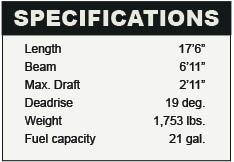 Forward of the transom bench seating, there's no real difference between this model and the one outfitted with a stern-drive. There are stowage pockets in the inwales, both the passenger's and helm seats swivel, the passenger's console sports a locking glove box, and the bow has seating for two. Get the Fish Package upgrade, and there will also be a bow-mounted 55-pound-thrust 12V MotorGuide trolling motor up there, as well as a bow casting platform insert and pedestal seat. The Fish Package also gets you inwale rod racks, a Garmin fishfinder, and an eight-gallon livewell. If you find watersports more appealing than fish slime, you can opt for a ski tow pylon, or even a wakeboard tower.

Construction of the 170 OB features traditional small fiberglass boatbuilding methods. The hull is hand-laid glass with a vinylester skin coat. Carpeting is nylon, fittings are stainless-steel, and stringers are fiberglass. The deck is gelcoated marine ply. The in-deck stowage compartment isn't lined, so it looks rough and gets wet, but the absence of a liner also allows for more room.

The bottom line? There are arguments both for and against outboard-powered bowriders. Which is right for you will depend on the importance of swim platform size, performance, fuel economy, seating, and sound levels. But no matter where these factors rank on your personal scale, there's one fact that you have to take into account: the outboard version costs about a thousand dollars less. And for most families, that'll be an attractive argument all on its own.

For more information, visit Bayliner. You can also participate in a forum of Bayliner owners and check out Bayliner on Facebook.

Other boats to consider include the Glastron SSV 170, Scout 187 Dorado, and Sea Ray 185 Outboard Sport.



Lenny Rudow has been a writer and editor in the marine field for over two decades and has authored five books. He runs his own web site at HookedOnFishingBoats.com and writes weekly for Boats.com reviewing new models and covering marine electronics.