Back to search results
Bayliner 175 BR Boat Test Notes
Detailed boat test notes from our video boat review of the Bayliner 175.
Watch our Bayliner 175 Video Boat Review





Overview
A small , inexpensive, but competent bowrider.

Concept



Design a bowrider with more interior space than prior models.


Provide lower cost than the competition.


Construction


Fiberglass hull, gel-coated plywood deck, stainless-steel hinges.


Performance


Sporty; we broke 42-mph.


Though it's louder than a four-stroke outboard, it's not as loud as some similar stern-drive models.


Handling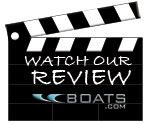 Takes waves well for its size.


Wanders a bit at slow speeds.


Features


Narrow gunwales noticeably increase useable interior space.


The swim platform is huge for this size boat.


Net pockets in the inwales provide handy stowage.