See more articles
Bayliner 210: Deckboat with an Improved Attitude
The all new 210 DB from Bayliner brings form and function together, to provide pontoon boat capacity with V-hull performance.
What's cool about the new Bayliner new 210 deckboat, and why is it so different from Bayliner decks we've reviewed in the past, like the 217 SD? For starters, it's got some style. Viewed in profile, it mixes edgy angles with a sweeping fore-to-aft bond line that will make buyers quickly forget the (forgive me, Bayliner) dated appearance of the brand's previous generation decks.





And thankfully, the 210 mixes that form with function. One of Bayliner's goals for its deck's 2013 makeover was to focus on room and passenger capacity. With a U-shaped lounge in the bow and a "pontoon-boat-inspired" L-shaped lounge aft, Bayliner notes the 210, which is notably different from the similarly-sized 215 DB, can carry up to 12 passengers. Another touch borrowed from the pontoon crowd is each seat's bolstered edge. It provides support under the knees, as well as keeping passengers more secure. Stowage is found below all those seats, as well as within the port console head compartment. A generous ski locker and numerous smaller nooks throughout the boat swallow up incidentals.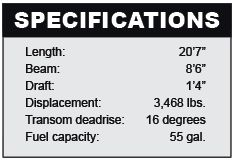 Capacity is a buzzword for other reasons, as well. Bayliner wants its buyers to be able to do lots of different things on the water, as well as adapt their purchase to their needs and boating environment. In standard trim the 210 features a windscreen, giving the boat an open, fishy feel. Prefer protection from the elements? A full wraparound windshield is an option. Likewise, two packages can fine-tune the craft's mission. Choose the Fish package and you transform the boat with a wireless MotorGuide trolling motor, aerated livewell, Garmin fishfinder, dual casting platforms and chairs, and dedicated rod stowage. Opt for the Flight Series tow sports package and it adds an aluminum watersports tower with integrated Bimini top and edgier hull graphics. Or heck, just leave it as is. A full cockpit liner and open layout already lend themselves to those pursuits for the casual enthusiast.

I took the 210 out for a test ride on a windswept Sarasota Bay. Despite the conditions, the boat offered a solid, stable ride, and even displayed some pleasing agility in the corners. With the base Mercury 150 four-stroke outboard, the boat planed in a quick 3.5 seconds and reached the 30 mph mark in 10. Top speed averaged 37.2 mph. Those longing for more power can option up to a Mercury 200 Verado.

For more information, visit Bayliner.

- Jeff Hemmel