Back to search results
Bayliner 215 Bowrider: Striking a Balance
Buyers ordering this Bayliner can weigh and choose their options to avoid busting their budgets.
It is always best when an affordable runabout comes well-equipped in standard trim. Builders often advertise a low base price for a given model, but when you step aboard one at a show, it sometimes looks as though the factory stopped building it before it was done.





By the same token, it's also great when a boat's options are affordable—when they don't make what first appears to be a good deal into no deal.

Both these descriptions apply to Bayliner's 215 Bowrider, an affordable runabout in its own right, but also one with options that won't put it out of most buyers' budgets.

For example, base price on the 215 BR is $29,958 before prep and freight. It comes with either a painted or galvanized single-axle trailer with drum brakes and a breakaway tongue. Stock power is a 220-horsepower MerCruiser 4.3-liter V6 with an Alpha One drive. Normally, a V8 is the way to go, but when you consider how little the boat weighs—2,838 pounds dry—you realize that 220 horsepower is plenty. That's a huge advantage, because engine options are always by far the most expensive. Also, because the boat weighs just a tick under 3,700 pounds on its trailer, you'll likely find you won't need a new truck to pull it.

So what does the base model come with? All the basics are there: ski tow eye on the transom; telescoping ladder in the swim platform, an anchor locker in the bow; in-sole stowage for skis, and more stowage in the coaming panels. The helm includes a handsome dashboard—no tacky plastic woodgrain appliqués—with all the gauges you need except a depthfinder, which is optional. Why those aren't standard on all boats is still a mystery.



It also includes a Jensen AM/FM CD Sirius-compatible stereo, a tilt steering column with a Dino wheel, and a 12-volt power outlet to the right of the cluster. The helm is simple and straightforward, intelligently laid out, with a sculpted dash pad that looks great.

The base seating package is a bit old-school, with jump seats to either side at the transom, and forward- and rear-facing buckets to port that convert to a lounge.
It is functional, but in today's market, it does look retro.

The jump seat cushions lift off to form a sun pad with the padded engine box, but the sport seating package is a better choice: It's a $729 option that adds a full-width sun pad, L-shape rear bench, and twin bucket seats for driver and observer. The package also includes a walk-through to the swim platform and a removable filler cushion. If you're going to keep the boat outside, the bow and cockpit cover package is probably a good idea, too, but it only bumps the price by $857. We've seen canvas options listed for up to twice that amount.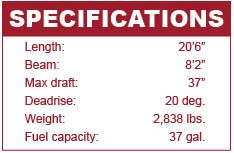 One option that your kids might insist on is the Flight Series package for an extra $4,236. Essential for water sports, it includes a swim platform extension, a wakeboard tower, special graphics, and a bimini top. But take note that even if you add the Flight Series package, sport seating, and the bow and cockpit covers, the boat stickers for $38,256 -- and that includes dealer prep and freight. If you're in the military, you can knock $750 off the price.

Yes, you can spend more for a runabout and get more luxury touches, but for some families those things are superfluous. Of course, you can spend less and get, well, less. Bayliner's 215 Bowrider strikes a balance between too much and too little. And for a lot of people, that makes it just right.

For more information, visit Bayliner



Editor's Note:
Brett Becker
is a freelance writer based in Ventura, CA. He covers the marine, automotive and racing industries for various print and web titles.