Back to search results
Bayliner 215 DB: Put the Sport in Watersports
With a Mercruiser 4.3 MPI stern drive under the sunpad, this deck boat is designed for how modern boaters say they use their watercraft.
Bayliner has introduced its brand new line of deckboats, following on the popularity of decked-out models we've covered before like in the 217 SD video boat review. But as I walked down the dock to test the largest of this series, the Bayliner 215 DB, I noted it looked little different in size than the 210 I had just brought back to the dock.





The bow layout is certainly similar. The forward platform is covered nicely in nonslip, and features a trio of hatches. Below the center sits a flip-down, stainless steel ladder, great for access on and off the boat when nosed into a beach. To each side, stowage compartments are ready for gear you may have at hand. Step down into the cockpit (the anchor resides below the step), and you'll find a similar U-shaped bench. It's parallel sides are nearly four feet long to allow room for adults to kick up their feet and stretch out.

The main cockpit is likewise familiar. It feels deep and secure, perfect for families with little ones. A simple but attractive helm shares the 210's same three-gauge cluster, a nifty little tray for small items (think iPhone) that you may want to keep close at hand, a tidy row of rocker adjacent to the tilt wheel, and a welcome elbow rest to provide support to your throttle arm.

Opposite, the port console features a similar low-maintenance interior, with a finished fiberglass lower half, vinyl-covered upper, and screened port to provide ventilation. Why emphasize the value of low maintenance? This is an area that will either a) be crammed full of gear, like dirty, damp boat covers, or b) house an optional portable MSD which will test many a kids—and an adult's—aim. Trust me, those carpeted fuzzy liners found on many boats are not your friend. Even the cockpit seating is the same, an L-shaped bench that runs from the port console down that side of the boat, and turns a right angle across the transom.



Vive La Difference

So what's different between the 210 DB and the 215? Take a gander aft. Unlike the outboard-powered 210, the 215 is powered by a sterndrive. Under the engine hatch my test boat featured a MerCruiser 4.3 MPI. It pushed the boat onto plane in 6.2 seconds, and to a peak speed of 44.7 mph. At a comfortable 26 mph cruise, it burned 6 ½ gallons per hour. While there are certainly advantages to outboards, one thing I immediately noticed is that the sterndrive gave the 215 snappier handling than the 210. Of course, it's also got about 70 more horses at its disposal.

Bayliner understands consumers have different opinions on sterndrive versus outboard depending on their boating environment or maintenance concerns, as well as speed and performance goals. So, it gave them both options.  The inclusion of that sterndrive engine also allowed Bayliner designers the opportunity to depart from the aft layout of the 210, and mix things up with an aft-facing seating area. Research shows we boaters, or at least boaters in the runabout/deckboat/pontoon categories, do a lot of "coving." In short, we boat to a cool cove or sandbar, drop anchor or nose into the beach, and then spend a lot of time swimming or hanging out on the swim platform. To accommodate this trend, the 215 features a generous lounge facing that platform. It's not quite a full-fledged sunpad; the forward portion of the lounge features three adjoining backrests, angled at about 45 degrees. Still, there's plenty of space for a solo sunbather to stretch out, or a trio to recline facing aft.



Those who prefer a more upright seat can lift the individual seatbacks and prop them up with a simple hinged bar. That bar is held secure against the fiberglass by squeezing in between two strips of composite screwed into the engine hatch, kind of like the chaise lounges you'd find at a resort pool.   This sunpad/bench combo stops short of the starboard gunwale to allow for a transom walk-thru. It provides easy access on and off the boat via the swim platform. A shallow cooler is integrated into the floor below. A hinged gate closes across the walkway for those who want a little more feeling of security.

Moving all the way aft, my test boat also revealed an extended swim platform. It goes well with the optional watersports-oriented Flight Series package that includes an aluminum wakeboard tower with an integrated Bimini top and edgier hull graphics. A fishing-oriented package is also available, and includes a wireless MotorGuide trolling motor, aerated livewell, Garmin fishfinder, dual casting platforms and chairs, and dedicated rod stowage. The workings of the latter package's aft casting platform is surprisingly simple. Remove the aft bench cushion and you'll find a hinged, carpeted platform that flips over to double the size of the space below the cushion. Another hinged, internal portion of that larger carpeted deck then flips down to act as a support brace.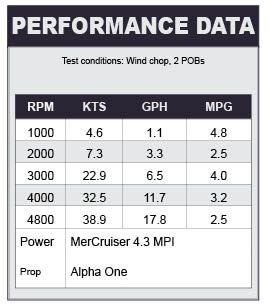 Mission Accomplished

Like all the boats in this new line, the 215 is offered in two configurations, a standard trim which features a helm console windscreen, and an optional full wraparound windshield that increases protection from wind and weather. The console design is such that either choice works without modification to the deck mold. Overall, it's a package that meets Bayliner's goal of versatility and passenger/stowage capacity (the 215 seats up to 12), areas that consumers have indicated are most important.

The boat is also stylish, if simple. Areas that stand out include plush bolsters under the knee on all bench seats, a pontoon-inspired style that offers greater security and comfort to the passengers atop; raised lips around bow stowage compartments to keep water at bay; and something as miniscule as a web strap that keeps the port console door from swinging too far open and banging into the helm console (again, something you find lacking all too often on competitors large and small).

Areas that disappoint are the lack of a similar strap on the walkthrough portion of the windshield, the simple vinyl straps sewn onto seat cushions and bolted into the engine hatch to faciliate opening (they seem destined to break over time); the lack of a flip-up bolster at the helm; and the softness of the port seat cushion that had me bottoming out in the rough conditions we encountered during our test. These boats were still prototypes, however—perhaps we'll see some of these areas addressed in production.

Overall, the 215 represents a welcome move forward for Bayliner. This boat shows its manufacturer spent time researching how its customers actually use its product and knew how to implement what it learned, while keeping costs at a level that is realistic for buyers in today's economic climate.


"As customers' needs and tastes continue to evolve, Bayliner is working hard to refine our award-winning product offering so that it aligns with what today's boater is looking for in his or her next purchase," explained Bayliner Vice President of Marketing Matt Guilford. "Bayliner's goal is to be the industry leader for recreational boats under 21 feet, and our all-new Deck Boat lineup signifies a significant step in that direction. With their amazing versatility and updated styling, we think they're a breath of fresh air in a stale market."

Other Choices: Starcraft 2110 Calais, Chaparral 216 Sunesta, Hurricane Fundeck GS202 I/O.

For more information, visit Bayliner Boats.

- By Jeff Hemmel