See more articles
Bayliner 225: A Large Runabout That Makes Perfect Sense
Probably the most affordable large runabout on the market, the Bayliner 225 has lots of value left to spare.
No other builder capitalizes on its economies of scale to create affordable boats better than Bayliner, and the 225 is a perfect example. U.S. Marine knows a thing or two about mass production, but more than that, it knows what features buyers want and need in a family runabout—and it knows those buyers don't want to have to pay for a whole host of options to get them.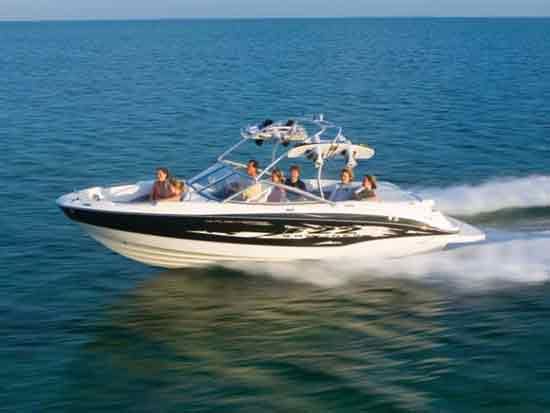 For example, the 225 comes with a dedicated anchor locker in the bow, but it's more than just a compartment with a line recess in the lid. It comes with a plastic liner and an eyelet for the anchor line and two rubber fittings to secure the side pins of a Danforth anchor. That means your anchor isn't bouncing around in rough water, tearing up the locker. It's a complete feature you don't find on many 22-foot runabouts, and part of what sets the Bayliner 225 apart from the competition.



What's more, this boat is perfectly usable in standard trim. The base engine is a 250-hp 5.7-liter V-8. You can get a 260-hp 5.0-liter V-8 for a nominal upcharge but in this case—and you won't hear me recommend this often—go for the base engine. A 5.7-liter is a better engine than the 5.0 liter. The bore-stroke ratio on the 5.7 is better suited to marine use. You'll probably never miss the 10 horsepower anyway. But if you do miss it, you can get a lot more aftermarket power out of a 5.7-liter than you can a 5.0-liter. Inside you get a U-shape lounge with a standard pop-in dinette table. All of the cushions throughout the interior are hinged, there's even a handy walk-through to the swim platform and a wind dam between the port and starboard cowl sections.  Both front seats swivel and the driver's seat features a flip-up thigh bolster for increased visibility, a big plus when docking and trailering the boat.



There is stowage in the floor, in the coamings and naturally beneath all the seats. Up front in the bow, the 225 has its own latching cooler, a pair of cupholders, speakers and grab handles for when the ride gets rough. There is another removable 36-quart cooler beneath the U-shape lounge on the port side.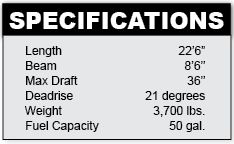 At the helm, it's pretty standard stuff, a tilt wheel with tach, speedo, fuel gauge and all three engine functions plus a trim gauge. Everything you need. Nothing you don't. On the plus side, there is an AM/FM satellite ready radio with provision for an iPod or MP3 player. I understand Bayliner gets a bit of a bad rap for popping out thousands of look-alike boats, but the 225 represents the best of the company's runabout line. It's solid, good looking, fully featured and perfectly usable in standard trim, and it comes from a company with a lot of experience in building runabouts. If you think about it for a while, it's a boat that makes perfect sense. Base price is $39,598 with the base engine and a tandem axle painted trailer. For more information, visit the Bayliner website.