See more articles
Bayliner 335 Cruiser: Video Boat Review
This 33 footer lists for $150,000, much less than the competition. Here's why.




Read Lenny's Bayliner 335 Boat Test Notes

VIDEO BOAT REVIEW TRANSCRIPT

This is Bayliner's 335 SB. Now this is a twin-engine powerboat that's designed for overnighting and weekend trips. What's really interesting about this boat is its price tag. It lists at around $150,000, with a pair of Merc 260s. That is $20-50,000 less than most competitors. Why is it? Let's ask Pat Blake from Bayliner.

Interview with Pat Blake, Bayliner Boats
Pat: Well, Lenny, a big portion of that is actually inside the cabin. Why don't we go inside and take a look and I'll show you. At Bayliner, we like to give our customers everything they need but not necessarily things that they don't need. This boat has an abundance of storage in it, but we don't put a whole bunch of cabinets up around the gunnels that people are not necessarily using. Also we don't load the base boat up with a bunch of TV sets and other electronics that people may or may not use. We give them the option of picking what they'd like. So by doing that, that's a couple of the reasons why we can keep the price down.

Like most cruisers in this class, the 335 can accommodate six people overnight. The dinette goes into a berth, there's a forward berth, and there's a mid-cabin. Unlike most, it also gives you privacy. And no, I'm not talking about the silly little curtain that covers up the forward berth. Come on over here.

I'm talking about the mid-cabin berth entry. Which has an actual bulkhead and a door, which is large enough that I can walk through standing up.

Construction
Now here's something I always look for when I'm testing a boat. If you look at the head, it's not a stick-built bulkhead that was dropped in place. This is actually a separate molded pan. This entire piece being one fiberglass unit means that water won't leak out along the edges if you take a shower in here, or if you happen to spill something. It will always remain inside the head. There's a separate drain that goes to a sump, so it doesn't get in the cabin.

Want to get into the heart and soul of a boat? Get below the deck and into the engine room. This one lifts up on an electric lifter and as you can see it gives you great access. The hull is handlaid fiberglass, you got fiberglass stringers. One thing I really like is the big aluminum motor mount right there, you get a lot of strength, a lot of oomph. One thing I don't love so much? Some of the wood is not completely covered with gelcoat which could lead to problems way down the line.

Before we close this hatch up, a couple details you want to take note of. There's a great storage space here for the cockpit table so you can get it out of the way. And there's lots of insulation on the underside of the hatch to cut down on engine noise in the cockpit.

Performance
For a 33 foot boat, this thing is just plain fun to run. The Mercs are plenty of power, the handling is great, and with the twin engines dockside maneuverability is excellent as well. At a 4000 rpm cruise, we got a speed of about 33.5 mph, plenty of pep.

Now let's slow the boat down and take a look at some of the features in the cockpit.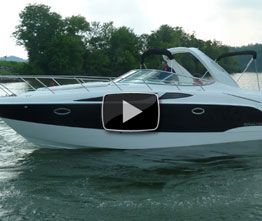 Features
A few things to note at the helm: I like the lighted rocker switches, I like the trim tab indicator, and I like the gauges. Access is tough; there's no hatch in the back, so in order to access any of the wiring for any of these items, you're going to have to undo all these screws and remove the plate itself.

The seating is very comfortable. You're gonna like this seating, so is Mom, so are the kids. One thing you want to take note of: since the mid-cabin berth does come all the way up under here, you don't have stowage underneath the seat where you might otherwise. Well worth the tradeoff.

The boat has a nice wet bar. It comes with a sink, a Corian countertop, a refrigerator, it's even got a little trash compartment over here. And there's some extra stowage space underneath the sink.

We all know which member of the family has the real buying power, right? Yes I'm talking about Mom. Here's something about the boat she's really going to like. Getting up to the bow sunpad is really easy; you just take the steps, flip over the windshield, walk right down, and you're ready for some serious sun-worshipping.

Most people are going to order this boat with the preferred-equipment package. It adds a little over $6,000 to the price of the boat, but it includes some really cool goodies. Including a hot and cold transom shower, and a stereo remote. If you're willing to spring for another $2,000, you can also get the extended swim platform which really just gives you gobs of room back here.

Wrap Up
Bayliners are not known for being the fanciest boats in the world. But in today's economy where it's tough enough to make a house payment, let alone your college tuition payments or other expenses, a boat like this, well it gives you a lot more LOA for the dollar spent. So if you're looking for a boat that's in the $100-150,000 range, the 335SB is definitely one you want to look at.



Lenny Rudow has been a writer and editor in the marine field for over two decades and has authored five books. He runs his own web site at HookedOnFishingBoats.com and writes weekly for Boats.com reviewing new models and covering marine electronics.