See more articles
Bayliner 192 Discovery: Video Boat Review
Lenny Rudow dives into this small cruiser to see if it meets the expectations of boaters in need of a cabin.




Read Lenny's Bayliner Discovery 192 Boat Test Notes

Video Boat Review Transcript
For many families, a cabin is an absolute necessity on a boat. But cabins usually come on large more expensive boats. How do you find an inexpensive cabin boat? Well we tested one, the Discovery 192 by Bayliner. And we're gonna tell you what we think of this little cabin boat.

Design and Features
All you're giving up to get that cabin is the bow cockpit. Otherwise this boat is ready for all kinds of fun. Look: you have fishboxes in the deck. They're linered. And the hatches are on these gas assist struts. That's really very nice, something you expect from a more expensive boat.

There's also a reclining seat right here. And let's say you're ready to go fishing. You walk back to these aft seats, you can just pull them out and get all the way back here. So you can cast, you can troll, whatever you want to do. On top of that, there's a nice big swim platform right here with a ski tow eye so you can pull waterskiers, wakeboarders, all kinds of fun.

Interview with Matt Guilford, Bayliner Boats
Now as part of the Discovery series, the 192 is made to go new places, check out new waters. And one of the things I noticed about it was these real tall gunnels.

Matt: Yeah, it's definitely designed to be a coastal cruiser, or for big lakes.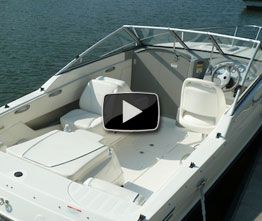 That gives you a nice safe feel, and you know what else? I really like the self-bailing cockpit.

Matt: We've got the fiberglass liner, the self-bailing cockpit, and grabrails for all the seats.

Now like others in the Discovery series, this boat is not loaded with a bunch of poufy extras that drive the price up. Yet I notice you include a stereo.

Matt: All the Discoveries feature simple, functional solutions, and the radio's a great example. That radio is 800 times less likely to fail than the CD players you find on most boats. It's custom designed to work with an MP3 player, and you can hose it down—it's completely waterproof.

The cabin has plenty of room to stretch out, and of course that ever important head.

Now here's something I really like. Bayliner gave you access to the back of the dash here, so you can work on all your wiring, install electronics. Real nice and easy to get to.

On many small cuddy cabin boats, bow access can be problematic. But it's easy here, you've got a swing-open windshield, a set of stairs going up to the bow, and you won't slip on your way cause there's good molded-in nonskid. And when you get up here you've got an anchor locker that has a little rack for a Danforth and a tie off—thank you Bayliner, cause no one wants to lose the end of their anchor line like the SS Minnow. Although if this were my boat I'd have a strap or strut here to support this hatch, so if anybody leans on it, it doesn't break the hinges.

While you're up here, also take notice of the sturdy bow rail with three screws on the bottom of each stanchion. That's good, that gives it lots of support.

Performance
If you're interested in a cabin boat, chances are you want to go new places, explore new scenery. Well you need long legs to be able to do that. And with 22 gallons of fuel, this Discovery does give you that ability. Even when you run the boat hard, it gets about 5 mpg, so you have over 100 miles of range. Top end is 37.6 mph. And since time to plane is only 4 seconds, you'll have no problem pulling a skier or a wakeboarder up out of the hole.

Wrap Up
Clearly the 192 Discovery meets the requirements for boaters who need a cabin. But what about limiting expense? Well shop it around and you'll discover this boat costs about as much as an average new car. You might find it interesting.

—Lenny Rudow